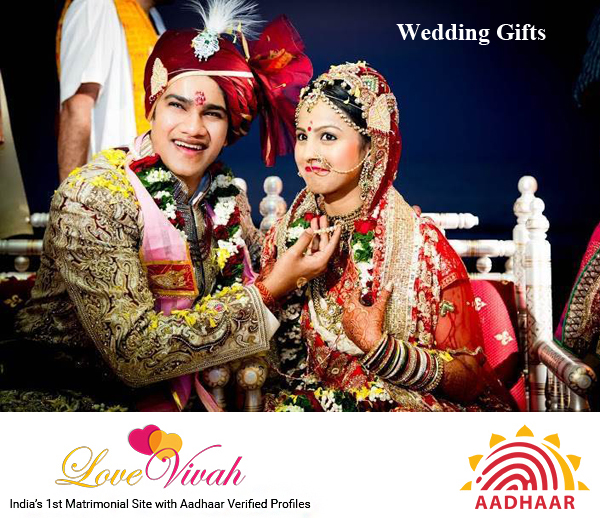 For all Indians, wedding is one of the most extravagant affair and we love to spend lavishly on wedding and wedding arrangements. The wedding celebration is not limited to the couple, but whole family is part of this. Wedding Gift is essential part of all weddings and you can't imagine a wedding without a gift. We always want to gift something unique and most useful thing to the newlywed couple. A gift decides your closeness with the couple. Nowadays, people don't want to gift that traditional stuff like clothes and jewelry, as they search for some unique and interesting gifting ideas. If you are confused as what to gift as you want to give something best and contemporary, we are here sharing some unique gifting ideas with you to make your search easy.
Gift voucher: If you are confused what you should gift to newly wedded couple, a dress or a showpiece, it is really difficult to make the final call, in that case go for a gift voucher. A gift voucher is a perfect choice to get rid of your confusion. You can give them a gift voucher of the same worth which you want to invest in the gift. They will buy a gift of their choice.
Spa session: You can gift them a spa session gift voucher. This is a perfect choice to infuse some romance in their love life and to relax their senses. A couple spa session is very good option for gifting them something unique. If you know their future schedule, then book a date according to their convenience or availability. Besides, there are many outlets which offer a voucher that will be valid for a limited period like a month or so. So, if you are not sure about the dates, then you can buy a spa session which they can attend as per their convenience.
A romantic gateway: If there is no budget constraint with you and you don't mind spending a good amount for them as a gift, you can surely give them something awesome. You can gift them a romantic honeymoon package to their desired destination or to some romantic destination. It will be a memorable gift for the couple.
Home appliance: They are going to start their new family and to start a fresh you need a lot of things. However, generally parents of the girls gift her maximum required things. But, if you know there is something which they missed or he/she desired for, you can surely gift them.  Or even you can ask for their choice as well.
Romantic dinner: This is another good option as a gift for them. You can book a romantic dinner date for them. If you know their favorite spot, go ahead and book their dinner date or if you are not sure about their favorite place then you can book a date of a place which will match their style and satisfy taste buds.
City tour: If they are new to the city or even one of them are new to the city, then you can book a day city tour for them. You can book a local touring agent or you can also buy a day tour package for them inclusive their meal or home pickup. Search online for such packages, as you can find a best deal on a competitive price.
Cash card: This is another good option to gift them on their wedding. You can buy a gift cash card from any of the bank. Nowadays, bank offer a card which is a kind of gift card with a fixed amount. These cards are available in different price range from minimum Rs. 500 to a maximum amount you desire for. These are very convenient and easy way for gifting. If you are not sure about the gift, then a cash gift card is perfect choice for the couple.
LoveVivah.com West Bengal matrimonial website offers resumes of brides and grooms for wedding. Search perfect spouse from Aadhaar verified profiles.