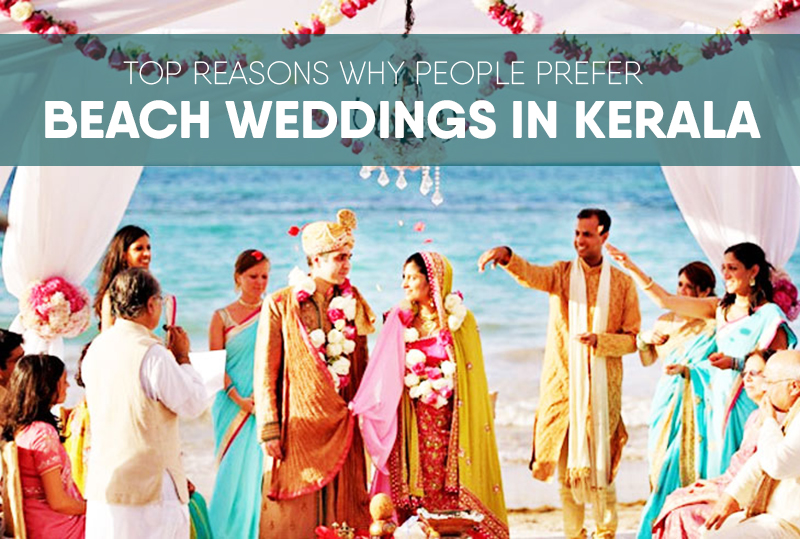 Weddings are special moments that as a rule, take place only once in a life. Therefore, we want everything to be perfect and make it an unforgettable moment with good memories for the bride, the groom, and the guests. Many couples choose to celebrate their marriage and start their matrimonial life on a beach. It is a romantic place with a pleasant tropical climate. And when we add the beaches of Kerala to the mix, it becomes a dreamy and a magical combination indeed.
If you are thinking about getting married on the beach, consider using shoes instead of heels that are suitable for the beach. If the wedding is on the beach, it is better for the groom to wear a white suit. Several people in India prefer getting married on a beach in Kerala and with an excellent reason.
Here are seven reasons to get married on a beach in Kerala!
1. Beach wedding is a more intimate event. It is common to go to a wedding where you don't even know the people. However, if you organize your wedding on the beach, only the people who are special and important to you will go. It will seem like an expense to go to the beach, but consider that a smaller number of guests will compensate you. The more the number of guests, the more budget you will need.
2. Guests enjoy the luxury. Those who attend your wedding enjoy two benefits. They accompany you to the celebration and enjoy a day or two resting and unwinding by the sea.
3. You save on the honeymoon expense. If you decide to enjoy your honeymoon in that same place, you save an extra expense. The guests accompany you for one or two days, but you and your partner can stay a week or more to enjoy the beginning of your matrimonial life.
4. A great view is another reason for a beach wedding in Kerala. A sunset wedding is perfect for spectacular and unforgettable scenarios and landscapes in Kerala.
5. You relax more. There are packages where professionals are responsible for organizing your wedding on beaches in Kerala. Some packages include the essentials such as a photographer, a minister or a priest, decoration and the wedding cake. There are many tourist destinations in Kerala with specialized plans for weddings on the beach. If you hire one, you will only have to worry about the wedding dress.
6. It is economical. Thinking about a wedding on the beach may seem quite expensive, but depending on the place, a beach could involve fewer expenses. Air tickets, the hotel, and the wedding ceremony is almost half the cost of a conventional wedding. Obviously, if you pay for the guests' accommodation, the costs will rise.
7. Pleasant weather is a bonus of a beach wedding in Kerala. The warmth of the sun and the cool sea breeze are ideal for people to have a great time. Everyone will be in a good mood in a cheerful and tropical environment.
Hence, there are several reasons to have a destination beach wedding in Kerala. If you also wish to get married in Kerala, you can check out Kerala matrimonial sites to find your perfect ONE.