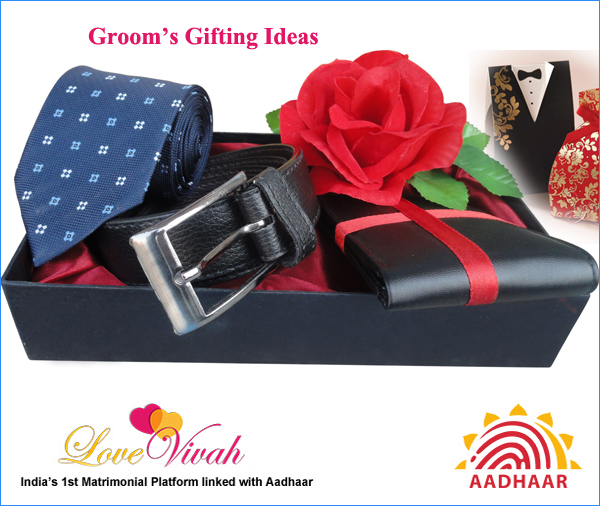 On your wedding day, it is not that a bride should only expect a gift from the groom, but a groom can also expect a surprise gift on the wedding day. It is not just wife who wants to feel loved and pampered, but a groom also expects the same from the bride. Buying something that will suit his personality and reflects his attitude will be the best thing on this special day. Whatever you have will decide to give him on this special day, don't forget to add a love note to it. It is really important to give a personal touch to this special gift. Here, we are sharing some best wedding gifting ideas to surprise him on wedding day.
Classic watch: If you don't want to go wrong on the wedding day, then buying a nice classic watch will be the best idea to gift him on this special day. But, before buying the gift always keep his style and taste in mind. There are plenty of options available in the market to choose from. You can buy a nice sporty watch if he likes sporty look or you can also give him some decent executive watch to match his office style. So, there are various brands offering very stylish and smart watches to make a choice.
Cufflinks: You can give him some nice, elegant cufflinks on the wedding day as gift. This is a good wedding gifting idea to choose. Even you can get these cufflinks customized like getting your name, initials or wedding date engraved on it. Cufflinks are available in different colors, size, designs and patterns. So, either you can pick the normal kind of easily available studded or other pattern link or you can get these cufflinks customized.
Sunglasses: You can also think about this wedding gift option for your Mr. Perfect. If he has already planned everything for the honeymoon, then you can give him a nice surprise. This will be something really awesome to give as a wedding gift. Rather, you can buy two same set of the same design, one for self and one for him to look like a duo. So, add this fun and cool gift on your wedding gift list and don't forget to flaunt this classic pick on your honeymoon.
Make a love trail: This will be something new and unique wedding gift for him on wedding day. You can make a small video by editing your photos. You can even use your old images or his childhood images to relive those sweet memories. You can also get this done by some professional photo or video editor. Add some quotes, love messages and even some nice background score to make it more special. You can also get this special video played in the wedding hall with the help of photographer as most of them fix big screens for showing the live wedding videos.
Fall in love with his hobby: You can buy something of his choice on this special day. You can buy something of his interest. If he loves to play some sports or something, then you can give him something which will interest him. Give him something related to his favorite sports. If he is big cricket fan, then give him Indian Team T-shirt or some other merchandise to enjoy the sports spirit.
Shaving and grooming kit: To make him feel special you can give him a shaving and grooming kit as wedding gift. This could be useful and meaning gift for him on the wedding day. These shaving kits are available in different sizes and with different products. These may include shaving foam gel, electric or normal shaving razor, after shave gel, trimmer and shower gel. You can also get this kit customized according to your requirements and interest. This will be an ideal wedding gift for him on wedding day.
Digital camera: If he loves to click the best images and he is very good in capturing the right moment with right expressions then this will be a perfect wedding gift for him. You can gift him a digital camera to see that special smile on his face on wedding day. However, these cameras are available in the market in different price range and specifications. You can gift him a nice camera or if you know which model he wants to buy, and then buy that special one for him to make your wedding day more special for him.
LoveVivah.com Agarwal matrimony site provides grooms and brides profiles for marriage. Register Now for free and search your life partner!