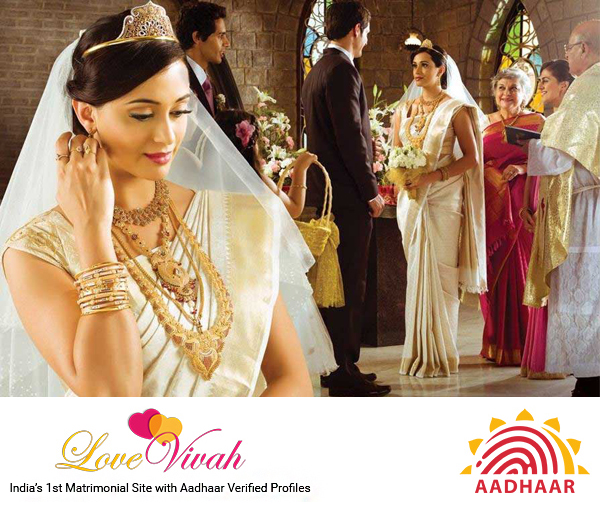 Kerala is full of diverse tradition and culture. You can easily find Hindu families, Muslim families and Christian families. These are three major communities in Kerala state. Kerala Christian wedding is very popular across India for its simplicity. For Kerala Christian people, marriages are considered the union of two people predestined by God. These people have very strong belief in God. Generally, wedding of Kerala Christian bride and groom is fixed by their parents. Once both the families are fully convinced and satisfied about the family status and background, then only they fix the marriage. Besides, there are many people who fix the marriage with the help of a mediator or Kerala Christian matrimony sites.  The Christian wedding is conducted in church. Kerala marriage rituals are a bit different from North Indian Christians. Let's take a look at pre-wedding and wedding rituals of Kerala Christian wedding.
Pre-wedding rituals of Kerala Christian marriage
Engagement ceremony:  The pre-wedding rituals of Christian wedding mainly consists engagement ceremony. Generally, the engagement ceremony takes place in girl's home. All family members attend this ceremony and give their blessings to bride and groom for their married life and future.
Bachelors & Hens party: As the groom celebrates the Bachelors party with his friends and family members, whereas bride celebrates this party with her friends and family members respectively. Bride's bachelor party is known as hens party. This is considered as wild party bash without any rule, wherein they celebrate this night with their friends and family members.
Haldi ceremony: In some places of Kerala state, the Christian community also follows the haldi ceremony. Just like Hindu wedding, the Kerala bride and groom are applied turmeric and sandalwood paste. This ceremony is known as Haldaat ceremony. Whereas in Goa it is known as Ross, where the couple is applied coconut paste instead of turmeric paste.
Wedding rituals of Kerala Christian marriage
Holy wedding: On the wedding day, the groom sends a car to bride's home to pick her up for the wedding venue. He waits outside the church for the bride to accompany her to aisle. The best man of groom welcomes her with a bouquet of flowers. Then the couple walks down and enters the church together. There the priest awaits them and offers them best wishes for their new beginning. The priest then reads the Holy Bible which is followed by sermon and called Homily on the sacredness of the wedding. The couple makes the promises to stay together with each-other through thick and thin and exchange rings.
Mangalsutra ceremony: Once they exchange the rings, the next step is tying the Thali or Mangalsutra. The groom ties the Mangalsutra around the neck of bride. Thali is a leaf shaped gold pendant with a cross embossed on it. Generally, it is connected with either gold chain or necklace. The groom also gifts a wedding saree to bride, which is majorly known as Matrakodi. The mangalsutra and wedding saree are two things which a Keralite bride is expected to keep with her throughout her life.
LoveVivah.com Kerala matrimony website provides marriage resumes of Malayali brides and grooms. Search your life partner with Aadhaar matchmakings of Malayalam matrimonial resumes.