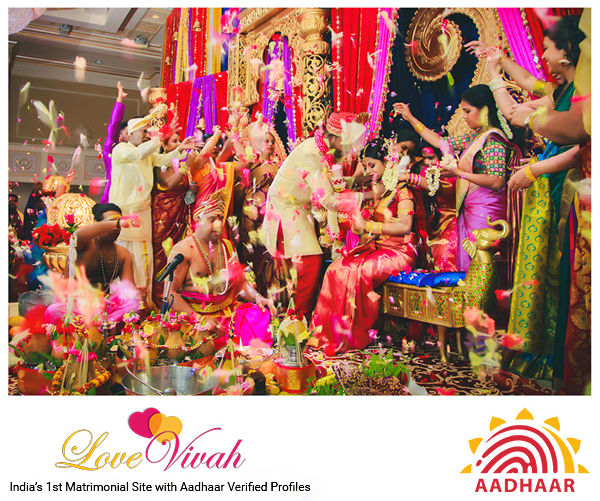 Tamilians are very much known for their simplicity and elegance. Even if you talk about their marriage rituals, you will feel that simplicity in their rituals as well. However, it is very important and the biggest event of once life, but still they keep it simple yet beautiful. Tamil marriages are not extravaganza like Punjabi weddings, yet they are lavish in their own ways. All Tamilians give a lot of priority to their rituals and traditions and pay more attention to conducting each and every ritual in its original form. Here, we are sharing the beautiful rituals of Tamilian wedding that takes place in Tamil Nadu.
Panda Kaal Muhurtham: All the wedding ceremonies begin in a Tamil bride and groom's house with this special ritual, which is generally performed a day before the wedding. In this, both the families offer their prayers to God for a peaceful and uninterrupted wedding.
Sumangali Prarthanai: This term Sumangali refers to women who are blessed with happy and prosperous married life. In this ritual, a traditional pooja is conducted and prayers are offered to Sumangalis and the bride-to-be to seek their blessings for a prosperous and blissful married life. All the sumangalis are required to wear a traditional saree or Madisar as it is basic requirement for the pooja.
Pallikai Thellichal: In this ceremony, nine types of different grains along with curd are mixed and filled into seven earthen pots, which are nicely decorated with sandalwood. These pots are later immersed in the water to feed the fishes. This ritual includes feeding the fishes, it is considered very auspicious for the couple and for their future married life.
Nandi Sharardham: In this ritual, the Tamil bride and Tamil groom and their respective families pray to their ancestors. Both the families invite the Brahmins for the feast. They offer fruits, supari, coconut, paan, flowers, sweets and veshti angavastram (traditional clothes) and request Pundits to bless the couples for their prosperous married life.
Lagan Patrika: It is Tamil translation of wedding invitation. After the engagement ceremony, the wedding date is officially announced in front of the guests. The first wedding card is sent to temple and then distributed to other relatives, family members and friends.
Mangal Sanaanam: This ritual is performed on the dawn of the wedding day in the bride and groom's house respectively. Haldi, Kumkum and some oil is applied on the bride and the groom before they take this holy bath to get ready for the marriage and perform other wedding rituals.
Gauri Pooja: Amongst all different rituals and Tamil wedding customs, this is one ritual which is performed by the Tamil bride on her wedding day. Once the bride is ready after taking the holy bath, she offers special prayers to Goddess Gauri who is considered a symbol of purity.
Pada Pooja: This is another important ritual before actual wedding ceremonies. In this ritual, the bride's mother washes the feet of groom with water, chandan and kumkum. After completion of this ceremony, the bride is called in the mandap.
LoveVivah.com Tamil Nadu matrimony portal gives marriage resumes of brides and grooms in Tamil Nadu. Find your spouse with Aadhaar matchmakings of Tamil matrimonial profiles.