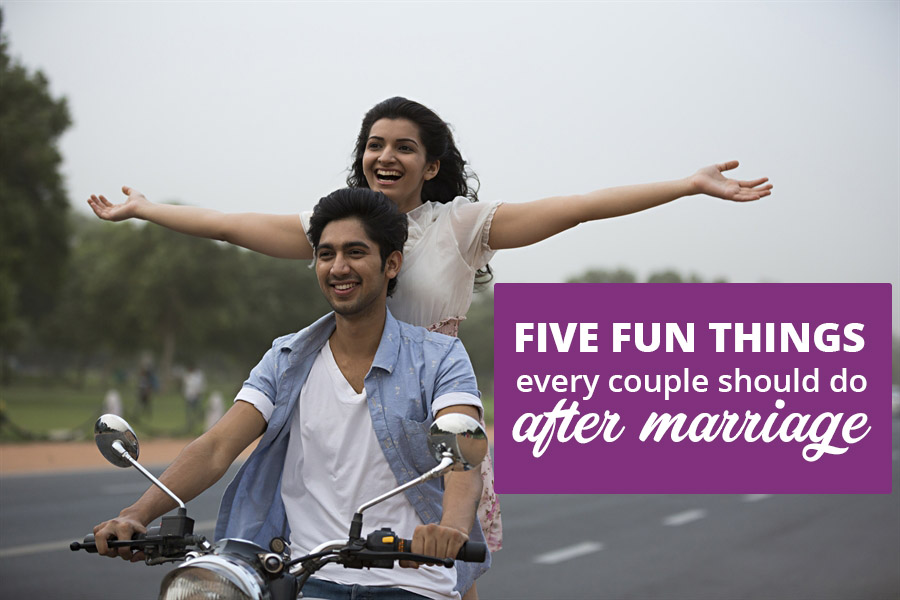 Marriage is one of the cardinal institutions, and the lesson that every married couple must remember and value by heart is "invest in the marriage." The bond of matrimony matures slowly, and partners need to accept many changes down the line. For instance, the feeling of newness might be worn off, and life might revolve around the cliched decisions involving budget, children, or work schedules.
This is where the investment part of the lesson needs practical enforcement. At this point of matrimony, couples need to invest some time into one other, and they deserve some time together.
Now couples got to shun the expectation that fun will be an outcome of whatever they do. The reality is, having fun is a voluntary choice. And everyone needs to work towards it by investing a little or more time if they want to have fun. You cannot expect to stumble into the fun, but you have to decide on the ways to get some. Take note and reserve some time, try these activities to raise the fun quotient in your married life;
1) Make way for a common hobby
Once the bride and groom period is over, and the routine ensues, the best way to spend some quality time is to pick up a hobby that suits both. Most of the couple make way for yoga classes, gym, or dance classes. Depending on the priorities and time available, the couple should be able to set aside a fun routine wherein the stress stops at the door, and you are out to have some time for just the two of you.
2) Cook a meal together
Now, this might sound cliché, but trust the experts; this is the best fun way to get around that kitchen table and start a cooking experiment. It is like a therapy when both the partners are taking care of this otherwise normal routine and come up with own meal. Cooked together- with love, this meal will set the mood and couple should try to to to do this much often.
3) Go for an outing
You are married, and now you have your own list of responsibilities to share. Then again, take a break because you have to do this for the rest of the life. Pack your bags once in a while, explore a new city. If you are short on time, explore the city you live in, just get out for a treat for those endless conversations with beautiful music playing in the background.
4) Host a party
Friends and relatives always add a new dimension to the matrimony. Host a dinner or lunch, so that all of you sit together and laugh your hearts out. The stress is relieved, and the couple will always value having each other's back on such occasions. Admit it, the admiration of your guests for the food or the beautiful plates will make your partner suddenly more attractive.
5) Watch a movie together
After a long week, when you are too tired to move out for a dinner date or any outing, the best way is to plug in your or your partner's favorite flick and get the evening going. Cuddle and watch that movie you were planning since last two months. Take time and cut yourselves some slack
There is so much more you can do to ensure that the fun never leaves. Make sure you take out some time and give some of the activities a try. Keep your marriage healthy today, tomorrow and till the end of time!