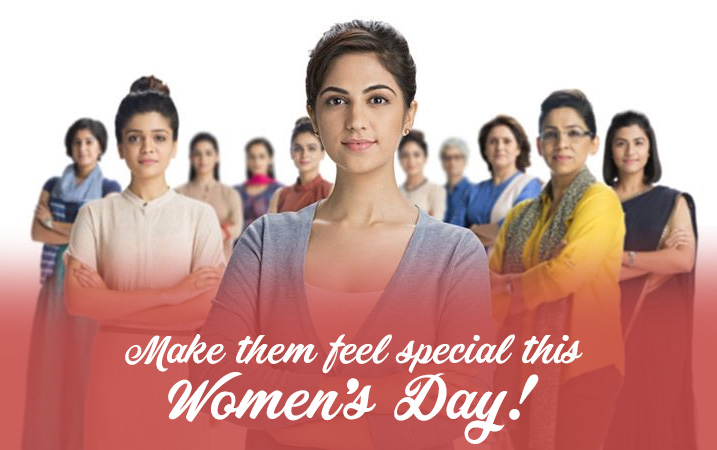 March 8th is reserved to make all the precious ladies around us feel more precious.  On this day, we go on celebrating all the courageous and inspiring women around us who are shaping the world towards betterment. The day is also a reminder that so much more needs to be done for numerous number of women whose voice is still unheard and who are not given the freedom to showcase their full potential.
With Women's day right around the corner, the merriment is on!
There are numerous reasons why we still need to observe this day as a tribute for example Power balance is still unbalanced as majority of power seats are still not women friendly. We still raise eyebrows when a woman takes up kick boxing instead of yoga. Women are still blamed for being raped. Irony! Right? We still judge women for anything they do to feel confident. From tattoos to surgeries- Nothing is judgement proof.
Women are still objectified in most of the movies and that really reflects in real life. There is so much more. From the pay discrepancy that still exists, to many struggles across the world, lot needs to be done. So, this women's day, let us take a pledge and celebrate incredible ladies, because yes! We do not do it enough.
Cherish all the ladies around you this women's day and solute to the courage of many. From the one who still struggles to the one who brought in the revolution, let us take a bow.  Take a look at how to make your special women feel cherished this women's day: 
1) A Promise: Well! This should be budget friendly, but this will work. Make a promise to yourself to cherish and celebrate incredible ladies round the year. If you are a lady, make sure you extend all the support to your special ladies because it is a crazy world out there and you have got to be there for each other.
2) A Spa Day: Women all around the world are perfect planners. They manage career and most of the family and there is no denial to it. She needs pampering for all the efforts. Gift her a spa day to relax.
3) Organizer: Admit it, she makes the best out of her house and her job. Gift an organizer to the women who loves paying attention to the very last detail.
4) Customized stuff: Most women are self-empowering. They can very well take care of their needs. The idea of a gift for women's day is to celebrate the fact that you have an incredible person around you worth celebrating all day, every day. Buy things with thoughtful messages like mugs, t-shirts or any of that stuff and personalize it. These inspiration messages will always keep boosting the mood.
5) A Desired Gift: Gift something, she has been planning to get. If you know her too well, you know what she needs. If something has been on her mind, work it out and gift it. Everyone loves those kinds of gifts. Right?
Gifts are numerous in number but the only thing that matters is celebrate the fact that you are surrounded by her. Celebrate it every day, because she is special in one million ways.
She is a sister, mother and a wife. Let all important women in your life know that they hold an important and unique position in your life and heart. Let them know and feel that they are special, this Women's Day!