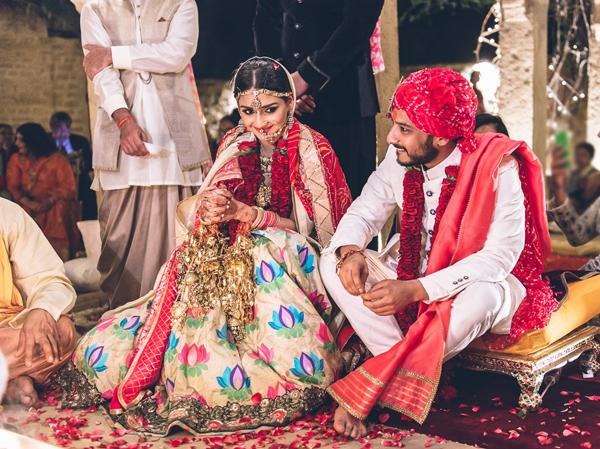 The Jain wedding rituals are really colorful and traditional. The Jain community follows their rituals very religiously in their weddings and enjoy all the wedding ceremonies.  Jains also have different pre-wedding and post-wedding rituals. Their rituals are really simple and beautiful. They find the Jain bride or groom for marriage through traditional ways. They pay special attention to their rituals and traditions. Let's take a look at different traditional wedding rituals of Jain community.
Lagna lekhan: This is generally a small puja, which takes place at the Jain bride's home. In this ritual, both the families participate. The priest decides a wedding date and time that is auspicious and astrologically perfect for marriage.
Lagan patrika vachan: Once the Jain groom performs the Vinayakyantra puja, the priest reads out the letter regarding the wedding details at the groom's house. This ritual is known as the lagna patrika vachan.
Sagai ceremony: In the ceremony, the male family members of the bride's family visit groom's house. The brother of the bride put a tikka on the forehead of the groom and offers him gifts such as clothes, jewelry, sweets, dry-fruits, money and other gifts for his family members as well.
Welcoming baraat & aarti: After the Mada Mandap puja is held at both the groom and bride's home, the baraat proceed for the wedding venue. The bride's family welcomes the baraat with an aarti thaali. The bride's brother and the groom apply the tikkas on each-other's foreheads. The groom receives various gifts from bride's family. All the married females of bride's family recite the traditional folk songs to celebrate the occasion.
Mangal phera: In a traditional Jain wedding, the mangal pheras are really very important ritual. The bride and the groom take the phera around the sacred fire. The father of the bride performs the Kanyadan ritual and places his daughter's hand along with a rupee and 25 paisa and some price. During the phera's, the recitation of the mahaveerashtak strots is continuously done and the ladies sing the traditional mangal geet.
Granthi Bandhan: In this ceremony, a married woman is supposed to tie a knot with bride's saree and grooms shawl. Once they complete the sacred seven phera's, the bride now becomes Vamangi, the better half of her husband. They then exchange the flower garlands.
Sva grah aagman: When the bride and groom arrives groom's home after completing all the wedding ceremonies the groom's family gives a warm welcome to the newly wedded couple.
LoveVivah.com Hindu matrimony site give online verified profiles of Jain brides and grooms for marriage. Search your spouse from hundreds of Jain matrimonial profiles.