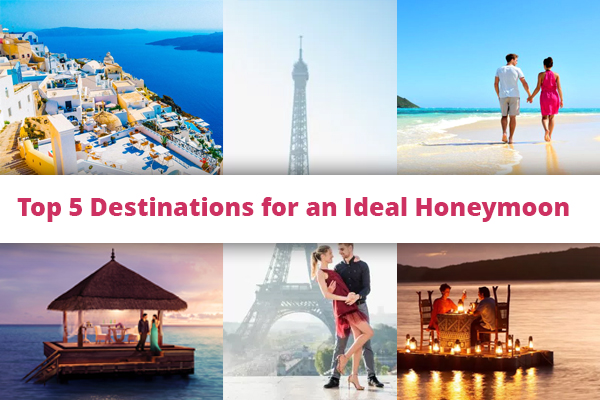 No matter whether you are married or about to get married, choosing a perfect honeymoon destination is quite a challenging task for both bride and groom. Be it a Hindu matrimony or Christian matrimony, a custom of going on a honeymoon is common among people of all religion and background. As we all know, matrimony  adds a lot of stress to your life and planning your honeymoon while so many other things going around can be difficult.
So to help you find out some good destinations, below we are listing some perfect international places to go on your honeymoon after marriage:
Hawaii: Hawaii is undoubtedly one of the top honeymoon destinations due to its amazing attributes that makes the exotic Hawaii so perfect. Also, the various romantic beaches and lip-smacking Hawaiian cuisine set the perfect honeymoon atmosphere. It is also home to some incredible islands that include Maui Island, Kauai Island, Oahu Island, Lanai Molokai and many others.
Greece: Not only famous among art and history lovers, Greece is one of the perfect holiday getaways for newlyweds too. The amazing architectural buildings, theatre, sculptures as well as mouth-watering cuisines make this place perfect to spend some ideal time with your loved ones.
Mauritius: Also known as heaven on earth, Mauritius is another popular honeymoon destination. The crystal clear water, tranquil beaches, balmy weather and exquisite landscapes attract thousands of honeymooners and globetrotters all around the world. If nature attracts you and your partner, then Mauritius is definitely a place that you must go on a honeymoon.
Bali: A tropical paradise, Bali in Indonesia is a perfect place to spend some gala time with your better half. The natural surroundings and greenery of this place will leave you spellbound. Filled with adventure, Bali is absolutely an amazing place. Visiting this island will also help you come close to the culture and tradition of Indonesia at its best. You can also enjoy a romantic breakfast with your partner witnessing an active volcano.
Paris: An eternal city of love, Paris in France is a place that you must go if you are looking for a Bollywood style honeymoon. This city offers you a perfect ambiance to help you enjoy a classic romance with your partner. This place will also help you explore the best chocolate, food and cheese and amazing red wine to set the right mood. You can also learn to do the Tango with your partner at the amphitheater by the Seine.
Maldives:  If you want to spend some time in luxury close to the nature, then Maldives is a place where you should go to some quality time with your partner. Also, don't forget to dive deep into the water to explore the exotic coral reefs. Surfing in the sapphire water in the Indian Ocean will definitely help you both bring some great memories home. You can also spend some relaxing time enjoying spa therapy to burn all the stress of the wedding.
So next time you plan your honeymoon, don't forget to consider all these above-listed destinations to create some amazing memories for the lifetime.