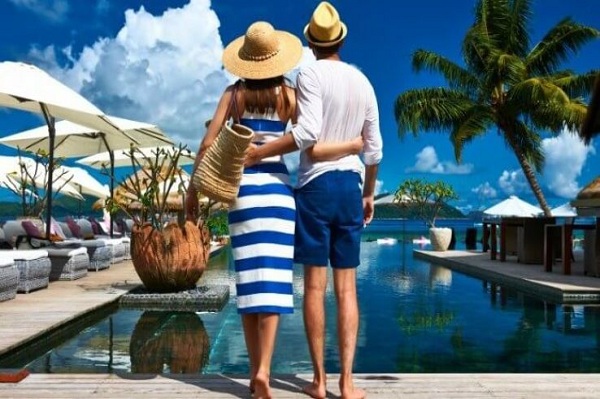 Are you excited about your honeymoon, but worried about your budget? Do you think a good and lavish honeymoon could be enjoyed only by spending hefty amount? If you think that you can't plan an international honeymoon destination within budget, then probably you are wrong. There are plenty of international destinations you can explore for your honeymoon within your budget. You would not believe that you can easily plan your international honeymoon without creating hole in your pocket.  You are just required to set your budget and select a destination matching your spending limits. Don't worry; we are here sharing some most romantic international honeymoon destinations you can explore within your budget.
Gorgeous Greece: This gorgeous white and blue international honeymoon destination is a perfect choice for newlywed couples. Clear waters, sunny beaches, romantically lavish resorts and pleasant climate makes Greece a perfect honeymoon destination. This is a perfect choice for all honeymoon couples to enjoy the most romantic honeymoon within budget. Dive between the two skies with your love as you witness the beautiful corals and the stars shine upon the clear waters. Enjoy some candid moments with your wife and walk hand-in-hand on the glittering beaches and enjoy some mouthwatering cuisines. You can easily plan your honeymoon for this international destination within Rs. 2 lakhs to Rs. 2.5 lakhs. The best time to visit this scintillating destination is mid-April to mid-June and September to mid-October.
Magical Seychelles: Seychelles is a very magical place. You should plan your honeymoon trip to this international destination if you are looking for romantic getaway. This place offers you beautiful sandy beaches and pleasant climate. The place is not very crowded, so you can spend some magical moments with your spouse. This is a perfect international honeymoon destination for honeymoon couples. Stroll through the virgin rainforests with your love, don't miss the opportunity to indulge in water sports activities to add some fun and excitement in your honeymoon. Here, you can stay at some luxurious resort villas or at some hotel as well. This is very cost-effective honeymoon destination. You can plan your trip to this place within Rs. 2 lakhs and there is no specific time to visit this place as you can visit this throughout the year.
Romance in Morocco: Morocco is the right honeymoon destination for you, if you want to enjoy your honeymoon in desert. Relax with your spouse and enjoy the sunset while sipping the mint tea. Enjoy the romantic moments with your partner under the star lit sky. The best time to visit this romantic honeymoon destination is April to May and September to October. This foreign honeymoon tour can be planned within a budget of Rs. 1 lakh.
Scintillating Turkey: Turkey is one of the most gorgeous international honeymoon destination. You can enjoy the vibrant nightlife, shop at various shopping centers. You can plan your luxurious stay at beautiful resorts and enjoy the scenic beauty of this budget honeymoon destination. The place is full of excitement and thrill, a perfect choice for those who want some adventure on their honeymoon. Enjoy a ride in hot air balloon and relax your senses in couple spa. You can plan your honeymoon trip within Rs. 2.5 lakhs and the best time to visit this destination is June to September.
Exotic Maldives: If you are too exhausted after your wedding ceremonies and looking for a honeymoon destination where you can rejuvenate you senses, then Maldives can be a perfect wedding destination for you. This exotic and charming destination is just perfect for you. While your visit to this place stay at some luxurious villas and resorts. To enjoy your honeymoon here you are just required to pay between Rs. 1 lakh to Rs. 1.5 lakhs and the best time to visit this exotic destination is from November to April.
Luxurious Vietnam: Are you looking for low budget international honeymoon destination, but don't want to compromise on luxury? Vietnam is one place for you where you can experience all luxuries on your honeymoon within your budget. Enjoy some romantic moments with your partner at beautiful beach. The best time to visit this place is November to April. You are not required to pay much on your honeymoon during your visit. You can plan your visit to this place within Rs. 1 lakh only.