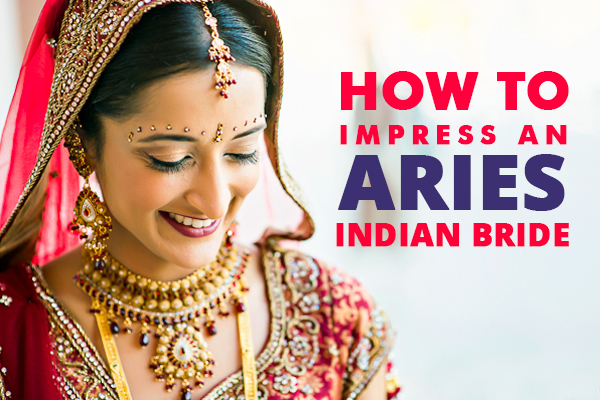 Aries, is a fire sign, ruled by the war God Mars, symbolised by iron as the ruling metal and diamond as the birthstone! For the  Indian groom out there, wanting to join with this woman in holy matrimony, some food for thought! Not many matrimonial sites  will help you get an insight, so here goes – fire is heat, energy and purifier, Mars fights evil, Iron is tough and pure and so is diamond.
If the above is metaphorically translated, the Indian bride born under this sign, is strong-headed, energetic, stands up against injustice, frank and pure at heart. So, to understand her, handle her and forge an ever-lasting relationship, you need to:
1. Respect her as an equal, her interests (even if they don't match yours), respect her personal space and in turn WIN her respect; never demand it.
Aries is a sign of pride, which many mistake as ego. Therefore, before anything else, she values respect as to her that is synonymous with pride. She believes where there is no mutual respect, there cannot be foundation of a relationship. She respects a man who can firmly but politely reason with her, counter her impulsiveness with calm logic, be a patient listener, be empathic to her point of view and negotiate disagreements. If you can logically prove her wrong, you have not only cleared the disagreement but won over heart.
2. Be frank and open conversationalist.  Being frank and open herself, she appreciates this quality, will value the trust you place in her, will help understand and try help you solve your problems and will be happy to share her thoughts and her life problems with you. She enjoys a positive give and take relationship on an emotional and spiritual level.
3. Ensure never to give her any reason to be jealous or suspicious. Aries girl is fiercely protective of her near and dear ones. Give her any reason to be hurt or humiliated and chances are her warm feelings towards you will turn into cold anger, shutting you out. You, on the other hand, are not allowed to feel jealous. She trusts you completely and she expects the same in return.
4. She can be energetic at times and quite lazy at others when her fire burns out. Understand that, give her space (Aries woman requires plenty of space) and let her recharge her batteries; when she comes back all recharged, be prepared to handle the fire and energy!
5. Strike the fine balance of being a man and a gentleman – neither too rough nor too soft;
This strong-headed yet warm-hearted Indian bride will give her heart and soul to her matrimony, will ensure everything runs clockwork and balanced, family never lacks fairness, warmth, love, care, will be fiercely loyal, supportive and protective of you, will not tolerate injustice, frank in her opinion (which may cut but will always be the truth that eventually brings the best out of you).