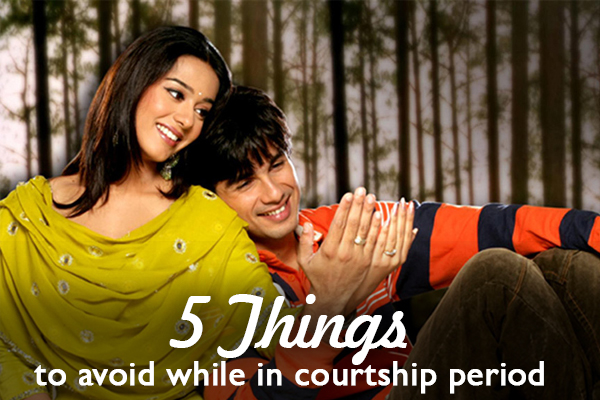 Courtship period refers to the period between the wedding finalization and the wedding day. This period basically gives you some time to know each other better. Not just an opportunity for the couple to know each other, but it is also a good time for families to meet up and understand each other's expectations and their tastes. Interestingly, this period is also the most sensitive period when both the parties need to be really careful about what they do and say.
There are a few things to be kept in mind to avoid any unpleasant situations.
Don't kill personal space
Though there is a need to spend time together to understand each other better but do identify and stick to that thin line between spending time together and giving personal space. Do not suffocate the other person nor let anyone them suffocate you. Allow them their personal space and do not just jump into their life cutting them off from the rest of the world. Understand and respect ones privacy needs and wait till he/she opens up on their own.
Don't build exceptionally high expectations
Setting up high expectations and hopes in the beginning often results in disappointments and disagreements at a later stage. Don't make unreasonable promises, which you might not be able to commit to later. Be honest about yourself and about all the facets of your life so as to build a strong foundation to your relationship and do not engage in fake commitments to make your partner happy with the relationship for the time being. This can land you in huge trouble post marriage.
Leave the past behind
It's a good idea to be transparent about past from both ends but don't bring the past in the present to an extent that it becomes a reason for discomfort for either of you. Don't be judgemental about the other person based on his/her past, and don't draw conclusions or make assumptions. Do understand the sensitivity of this period and be a support to each other without apprehensions.
Be unconditional in your relationship
A relationship built on conditions is not a healthy one. The list of conditions will keep on piling up with the passage of time and so will pile up the burden on the relationship. Let your partner live a life of their own. Do guide and support when required and offer your suggestions without being dominant. Encourage a condition free relationship and take practical decisions by engaging in healthy discussions.
Don't Pretend
Reflect your genuine self to your prospective life-partner. Make sure your prospective partner gets to know the best and the worst sides of your personality. And they accept you for what you are. Don't hide things from each other, discuss about each other's likes and dislikes and mould your relationship beautifully so that your partner feels comfortable in discussing important things with you and confiding in you.