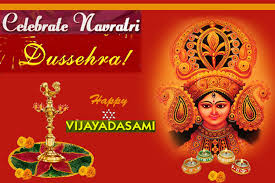 This festival of Navratri (Nine Nights) is celebrated for Goddess Durga across the country. This is the festival of nine days and nine different forms of Maa Durga are worshipped during all nine days. The tenth day of Durga pooja is known as Vijayadashami or Dussehra. This nine days long festival has started from 13th October and will conclude on 22nd October 2015.  In these nine days devotees offer prayers in traditional ways and worship Maa Durga for prosperity and happiness in their life. Diwali always comes 20 days after Dussehra festival. Vijayadashami is one of the important festivals of Hindus and celebrated across the country. It symbolizes the victory of goodness over evil. This special festival is also celebrated in the neighboring countries like Nepal, Bangladesh and Sri Lanka.
On Dussehra, the victory of Maa Durga celebrated by killing Mahishasur the demons king. Also on the same day, Lord Ram defeated the demon king Ravana as described in the epic Ramayan. This nine days long festival has different colors and celebrated differently in different states. Durga Puja pendals are decorated with idols of Durga in almost all cities. People buy wear new clothes and exchange sweets with relatives. In Gujarat, people celebrate this festival differently. They organize special Garba dance, the celebration of Navrati where both boys and girls perform dance on different devotional and folk songs of Gujarat. Garbha is very popular in Gujarat and even other states of India and Indian communities living around the world. During those nine days of Navratri devotees eat one time food during night after giving prayers to Goddess Durga. Navrati foods are available in various hotels, restaurants throughout the 9 days of celebration, even it is very popular among youth. These days are considered purest and people avoid eating non-vegetarian food, onion and garlic.
In these 9 days, people worship Lord Rama and organize the Ramleela drama, the story of the Ramayan. On the Dussehra night, the fairs and large parades with effigies of demon king Ravana, Kumbhakarna and Meghanad are burnt to mark the victory of Lord Ram. Special functions are organized to enjoy the festivities. People organize different pooja session and garbha nights to enjoy this nine days long festival and make it special for all. This special festival is not limited to one region, state or city, but you can witness the festival mood and spirit across the country. No state is untouched with the special flavor of this important festival be it Gujarat, Maharashtra, Rajasthan, Delhi with Navratri colours. In the eastern states like West Bengal, Odisha, Assam, Manipur the festival is mostly celebrated as Durga Puja or Dusshera.
Vijayadashami is also widely celebrated in the south Indian states of Tamil Nadu, Karnataka, Telangana, Andhra Pradesh and Kerala. This is also referred as the auspicious day to begin new business, buying new house, new vehicle and starting something new with the blessings of Goddess Durga.
Lovevivah.com is India's 1st matrimonial website with Aadhaar verified profiles. You can register yourself or create profile for your son/daughter or for your loved one to search the most trusted and compatible life partner.