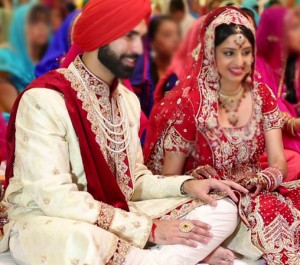 Whenever we see a weeding scene in the movie, we find it really exciting and fun filled as in most of the Indian movies we see Punjabi wedding rituals. Do you remember any movie where you find a wedding scene really exciting and fun filled? Every time when we talk or think about Punjabi weddings, we just remember the cheerful faces, fun filled rituals and goody attires and loud dance, etc. Karan Johar and Yash Chopra are two people, who have depicted the Punjabi wedding rituals in their movies and people loved these larger than life ceremonies and rituals.
Punjabi wedding is not just about different rituals, but more about vibrant and full of life ceremonies to bring everyone closer and feel the happiness and joy. Punjabi wedding consist different rituals, let's take a look at different wedding ceremonies of Punjabi wedding.
Roka ceremony: This ceremony is something similar to engagement ceremony. In this ceremony, the bride and groom give their acceptance to this new relationship in respective families. Both the families exchange the gifts and other things. Generally people invite their family and friends in this ceremony.
Taka ceremony: This is next thing after Roka ceremony, when both the families meet and sit together to fix the date of wedding. Taka means 'setting the date' for wedding. This ceremony generally takes place at bride's place to fix the wedding date and start the preparation of other important ceremonies.
Kurmai: This is formal engagement ceremony, which is generally done at grooms place or at some Gurudwara. In this ceremony, all the family members from both the families are invited and groom present the engagement ring to bride. After the exchange of ring the bride's family offers kara to the groom as ritual. Generally, the engagement ceremony starts with a short prayer by Granthi (sikh priest). After this short prayer, red scarf is places around the groom's shoulder along with dried dates according to granthi's instructions and then grandfather feeds that dried dates to the groom. After this ritual both families enjoy the meal.
Chunni rasam: This ceremony takes place at bride's house, where the mother of the groom cover the brides head with chunni, which indicates that from now onwards she is part of their family and she is supposed to respect and upload the honor and pride of the family. In this ceremony, the bride wears clothes and jewelry gifted by her in-laws. Groom marks her head with sindoor as sign of commitment. After this, groom's parents offer shagun to bride and her family as blessing and acceptance of engagement. Both the family exchange the gifts followed by lavish celebration with a lot of music and dance take place.
Mehendi and Sangeet ceremony: These two ceremonies are full of excitement and joy. Mehendi ceremony is generally conducted in both the families, where all the ladies of the family smear mehendi on their hands. In sangeet ceremony, the family members, relatives and friends perform dance on various songs and other traditional folk songs.  Sangeet is all about making merry and having fun. Women sing and dance on various traditional songs as well.
Chuda ceremony: This is the ritual that happens in the bride's house. The girl's maternal uncle or brother helps her to wear chuda, set of white and red bangles. After that, the girl is smeared with turmeric and oil paste. All the ladies of the family smear turmeric paste on the girl's face, hands and feet. After this ritual, she takes bath with holy water and then wears bridal dress, which is brought by her maternal uncle. The same kind of ritual is also performed in boy's family as well. But, there one thing is different that is 'sehra' ceremony in which an elder man of the family helps him to wear 'sehra' along with his wedding dress.
LoveVivah.com matrimony site gives online platform for Punjabi brides and grooms looking for marriage. Get your registration for best matrimonial profiles.