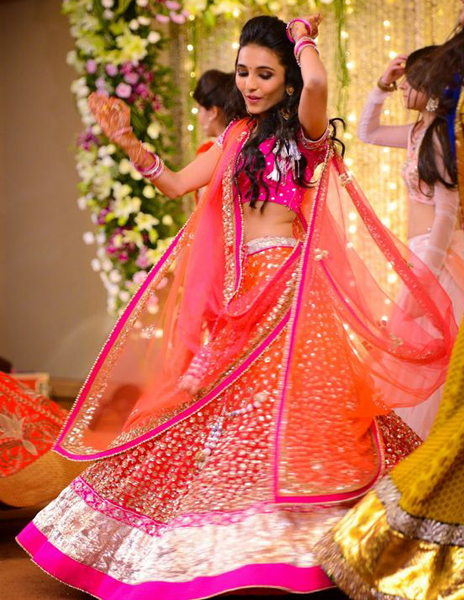 Every girl wants to look gorgeous on their wedding day, but it does not mean that you can ignore other functions or other functions are not important. It is equally important for a girl to look stunning on the other ceremonies as well such as ring ceremony, mehndi or sangeet ceremony. Sangeet ceremony is one the most exciting ceremony as this is just a day before the wedding day. As a girl you find it very important and close to your heart as this day when you enjoy a lot with your friends, relatives and cousins. Some people organize it on a larger scale as they book some special venue for this ceremony. Generally, people go for a very peppy and vibrant decoration along with choreography, decking up, and special performances by friends and relatives to make it special. As this day has its importance and significance, therefore you can't compromise on your looks and dress. Here are some special tips for you to buy a perfect wedding sangeet dress.
Choose a comfortable dress: It is important to choose the right and comfortable outfit for your sangeet ceremony. Sangeet ceremony is really important affair, but as you should not forget that before looks and other things, the thing which comes first is comfort. Your sangeet dress should be comfortable like wedding lehenga. As on your wedding day you need to wear that heavy dress, try to buy a dress for sangeet, which is light in weight and comfortable as well. As this a ceremony where most of the guest are your friends or relatives, so go for a dress, which is really comfortable and nice.
Don't go for heavy material: While choosing the dress don't go for heavy dress material. Try to buy your dress in a fabric, which is comforting and light. You can try something in chiffon, tulle, georgette, or lightly layered dress, which are breathable and comfortable.
Go gorgeous with minimum make up: Make up is another thing on which you should pay attention. As a Sangeet ceremony you need not to go for heavy make- up. You can even go with minimum eye make-up for this ceremony. Try to go with light make up use a light color lipstick and little eye make up to compliment your looks. Be cautious while going for eye make-up as don't go for too heavy eye make-up as it could increase the charges of smudged. Don't go for traditional way of make up as matching the make-up with your dress as this is a BIG NO nowadays.
Say no to heavy accessories: You should go for minimum accessories with your sangeet dress. You should choose your accessories according to your dress. However, you should not forget that accessories are to enhance your looks and beauty instead of making you uncomfortable. Try some funky jewelry to make your style statement.
Select a vibrant color: As this is not your wedding dress and you can think beyond the traditional colors and themes. Here, you can experiment with looks and colors on your sangeet. Try to go for some trendy and bright colors. Instead of going for heavy accessories or loud make up invest some time on choosing the right color for your sangeet ceremony. Your dress colors should go well with the ceremony's theme and mood.
Pick the right hairstyle:  There could be plenty of options while choosing the hairstyle for your sangeet you can pick from the plenty of options. Depending on your hair's length, pick style that will compliment your overall looks. You can go for curls if you have long hairs. Curl it, wave it or tousle it-there is no limit to the ideas for hairstyles you can flaunt. Do not spend a lot of money on coloring your hair for sangeet, if you are going for some other hair styling, then don't invest too much on your sangeet hair coloring. However, you can go for highlighting or streaks to get the trendy looks.
LoveVivah.com matrimony website is a leader of matchmaking for unmarried boys and girls in India. It provides online free registration for first time users.