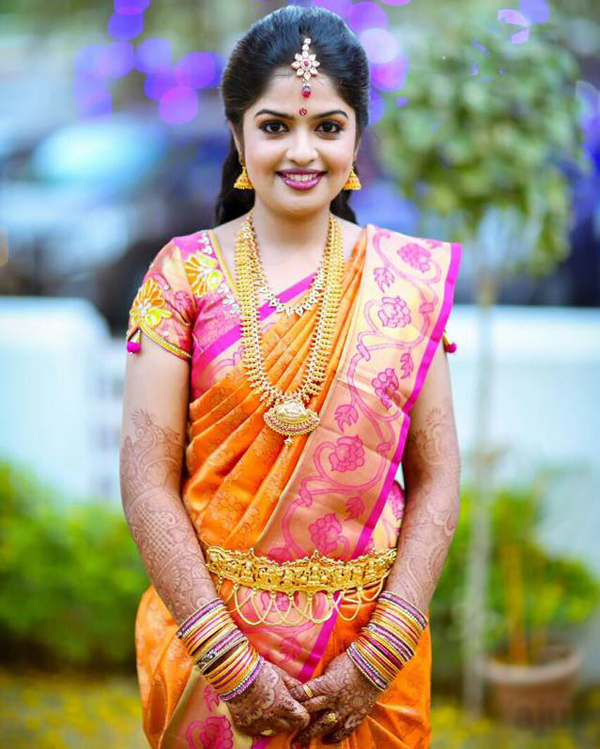 In India, we have a large variety of saree from casual wear to party wear and even for weddings. You can choose any of these sarees based on the occasion. Even, every state in our country has different kind of saree. You can choose any of these patterns, fabric and designs based on your choices. Net and fancy sarees are popular in North India, where as pure silk and kanjeevaram sarees very popular among East Indian and South Indian brides.  There are many traditional and contemporary sarees which are elegant, gorgeous and just perfect for a bride. Make your choice from the most popular traditional sarees of India to get that desired look. Here, we are sharing the five most stunning traditional wedding sarees.
Kanjeevaram, a typical eye candy: This beautiful saree is a must have for all South Indian brides. Owning a Kanjeevarna saree for any Sounth Indian bride is a matter of pride. This saree is originated in Tamil Nadu, but very popular across the South India. This saree is made of pure silk. It is very popular for its finest border work and fine detailing. You can buy a Kanjeevarm sareee in almost every color.
Net saree: This is very much Bollywood style saree and popular in North Indian brides. You can easily see many North Indian brides in net sarees. These are very stylish sarees. North-Indian brides choose this net saree with fine embroidery work with bling on it. The saree is available in almost every color and shades. It is very comfortable as you can manage it easily.
Banarasi silk saree: Banarasi saree is very famous in Uttar Pradesh as it belongs to holy city Kashi. The work and look of the saree can never be compared with any other saree. As every deign is unique and mostly woven by hands. The glow of banarasi saree is unmatched and just perfect for your wedding day.
Zardosi saree: Zardosi saree are the hot pick in the bridal choice. It is very much in and liked by almost all girls. You can easily see many ladies wearing these kinds of saree in any wedding ceremony. The best feature of this gorgeous saree is its beautiful embroidery work and the designs that are wide spread these days. The work is minutely done with fine detailing making it more beautiful.
Paithani saree: This piece of fine work belongs to the land of Aurangabad, this silk saree is one of the most expensive in the league. The silk is majorly preferred by the North Indian brides. The uniqueness of the saree is that the gold is weaved into the saree, which makes it beautiful, authentic and expensive too. You can easily see a Maharashtrian bride wearing this expensive saree.
Gota saree: Gota is a kind of lace that is originally fixed to the pallu and the hem of the saree. The special feature of this saree is that the bride can get this saree customized according to her interest. You can easily pick any kind of gota based on your choice and looks. These gotas are available in different colors, work, embroidery, beads and stone work. It enhances the overall look of the saree and makes it gorgeous.
LoveVivah.com Gujarati matrimony gives profiles of brides for grooms for marriage in India. Register to find your life partner.