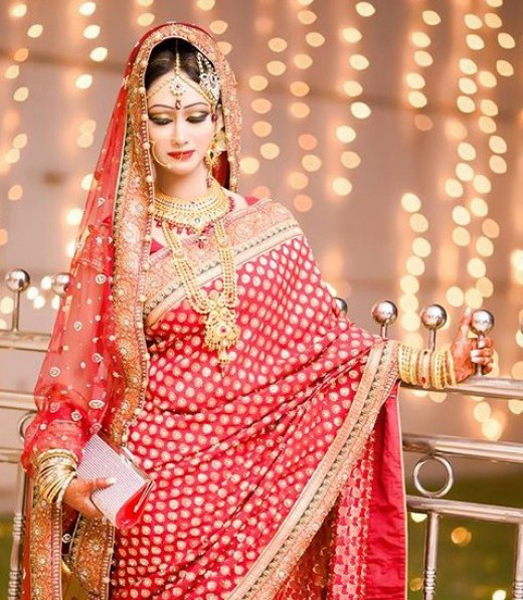 Marriage day is something for which you plan a lot of things and want everything to be in place and in order. It is really a big day for you and the most special day of your life. Every girl wants this day to be very perfect. Every girl wants to look great on her wedding day. It is really crucial to decide between a wedding lehenga and saree. If you have decided and made up your mind about wearing a saree on your wedding then try to choose the best one. The saree is most preferred and considered the best dress in India. So, if you are planning to buy a saree for your wedding day then it should be the best. However, this is the most complicated and difficult thing to choose the best outfit for your wedding day. The bridal saree plays the crucial role in enhancing the beauty and grace of the bride. So, it becomes more difficult to buy the right kind of saree. Here are some simple and easy tips to buy the bridal saree for your wedding day.
Plan in advance: If you know your marriage day in advance and there are still two-three months in your marriage, start exploring different markets and showrooms. As you have enough time to search for the best material and design, so you can invest good time to buy your saree. Narrow down your search and options, so that you can finalize something easily.
Decide your budget: Before you start exploring different market and shops to buy your desired saree, it is always better that you decide your budget first. If you know that your maximum budget in advance, then you can easily bargain and get the best deal. This will help you in not to over spend and go beyond your spending limit. Discuss the budget and expectations with your family and in-laws before you start shopping.
Decide the fabric of your saree: Before buying the saree understand your body type and then only decide the fabric of your saree. Most of the women worry more about the embroidery and design part of the saree, rather than focusing on the fabric. Choose the right fabric which will compliment your body type. Don't you want to look beautiful and slim in your wedding dress, therefore, it is really important to choose the right fabric. Find out what kind of material is going good with your body type.
Consider the embroidery and embellished work: Those who are budget conscious and don't want to spend too much on wedding gown and lehenga then they can consider a good designer saree as their wedding dress option. While choosing your saree pay attention to the embroidery and embellished work on the saree. This embroidery work can make your saree attractive.
Go for a designer saree: If you already know what kind of material you want to buy for your wedding saree in that case you can go for designer saree. You can buy the raw material from the market and get your saree ready from a good designer. It is far easy to get your saree designed by a designer for your wedding rather than buying a saree for your wedding. In your designer saree you can instruct the designer to increase or decrease the embroidery or other work to customize it according to your wishes.
Decide the color: Before buying the saree decide, which color you want to wear on your wedding day. Always decide a color keeping your complexion and venue in mind. So finalize a color that will enhance your beauty and grace and will make you look stunning. Think about different and new shades as red and maroon are not the only color that you can wear on your wedding day. You can try some different and new colors if you are comfortable with it.
LoveVivah.com marriage website gives online engagement for Indian brides and grooms for wedding. Make your matrimonial profile now.