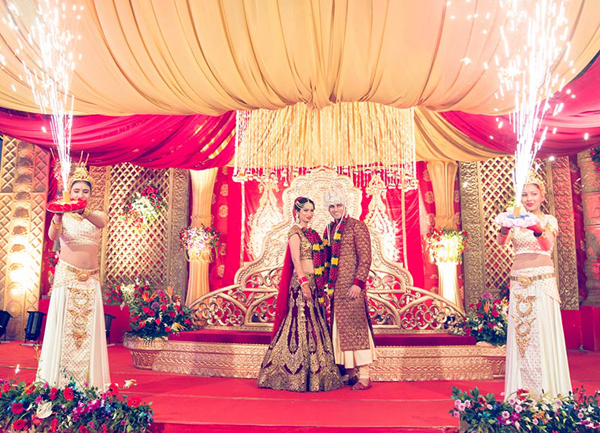 Once you finalize your wedding date the only thing which you should do on priority basis is book your wedding venue. This is one of the most commonly asked questions by all the relatives and friends. Everybody is curious to know have you booked your wedding venue. Nowadays, people are more concerned to book a good venue, which is affordable, elegant, reachable and will be liked by all. But, before finalizing any venue one should ask various questions and consider numerous things. Choosing a wedding venue might seem be like whether you are happy with the space and location or not. But, it is more than that you are should always consider all possible wedding ideas before booking your venue.
Prepare a guest list: Before you decide to book a wedding venue, it is better and suggested to prepare a guest list. You should prepare a guest list well in advance because all the venues are not suitable for large gatherings or small gathering. So, it is really important that you should prepare a guest list in advance. It will give you a clear idea about the number of people going to attend your wedding. It will further help you to book an apt venue for your wedding.
What is your estimated budget? : Do some homework before you book a venue to get estimated costs. Try and explore different venue and get estimated cost of the wedding ceremony for the number of people you are going to invite. You should always get pricing from different venues, so you can compare their rates and get the best deal.  It is always better to know your spending limits and your budget. If you are aware of your overall budget you can find out a place, which is very much in your budget and you can also negotiate the cost.
Can you afford the venue?: Once you are sure about the number of the guests and your budget then the next thing, which comes to your mind is the location within your budget. Can you afford that location? If you think that the location that you liked is not within your budget, in that case, you can negotiate with the vender. But, if the cost is still beyond your budget, then you should explore some other venues as well.
Is the venue available on the wedding date?: While you are enquiring for the venue, you should always ask about the dates and availability of the venue. Most of the venues are pre-booked in wedding season. There are people who book the venues well in advance, if they have fixed the date five or six months in advance as a general trend in India. So, in that situation, it is really important that you should ask about the date availability. If the venue is pre-booked in that case, you have to start from the basics once again by searching another location, which is very much in your budget. Try to book your venue in advance to avoid any last minute hassle.
Does the venue fit into your needs?: Before you book that venue, another important thing that you should consider is the place suitable for your needs. Is it going to provide you ample space for all your ceremonies? If you are planning for different ceremonies like Jaimala, Fera/Marriage Ceremony in the venue itself, then does it offer sufficient space for all ceremonies? It is really important that you discuss this in advance and ask about the availability and arrangements.
Consider the location: Do you know the location well? Can the guests reach there easily without any problem? Is it very well connected with the main road and public transportation? If most of the guests are driving is ample parking space available there? Therefore, it is really important to consider this point before finalizing the venue. If you are shuttling people from one place-to-another, then consider this point as well. So, consider the parking and transportation cost as well.
Catering services available at the venue: Sometimes a venue restricts external catering services in their premises. In that situation, they will ask you to avail the catering services from them only and it can shoot up your budget. It might be you were dreaming of having your favorite food. Therefore, ask your venue manager about catering restrictions as well.
Are you sure about the venue? : This is the final call before you book your venue. Are you really sure about the venue? Do you really want to book this for your wedding? Give yourself sometime to analyze all the points and consider the advantages, cost effectiveness and other parameters in mind. So, if you are 200% sure about everything and it is going to offer you the best possible services within your budget, then book this place. But, before booking think about all possibilities in detail.
LoveVivah.com matrimony website enables platform for young boys and girls for marriage. You can select your wedding venue/place as per choice and location of residence.