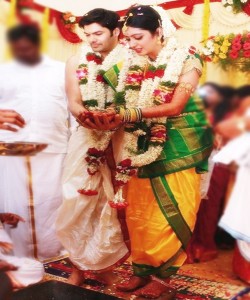 Tamil people are popular for their simplicity and elegance. Even in their wedding as well you will not see any extravagant affair or over the top things like Punjabi and North Indian weddings. However, Tamilians don't like to show-off a lot in their wedding. Besides, their wedding is full of traditions and rituals. These people are very close-knitted and ensure that all the family members and even distant relatives will also attend the wedding. The wedding is generally considered as one of the most sacred ritual. These people pay much attention to traditional rituals and ceremonies. A South Indian wedding is full of beautiful ceremonies and sacred rituals. Let's have a close look at some important rituals and ceremonies of Tamil wedding.
Panda Kaal Muhurtham: This is the first ceremony or we can say that it marks the beginning of the marriage rituals. This ceremony takes place just a day before the wedding function. During this ritual, both bride's and groom's family attend this ceremony together and pray for a peaceful, happy and uninterrupted wedding ceremony.
Sumangali Prarthanai- a holy prayer for married women: The term sumangali indicates to women who are blessed with a harmonious and happy married life. During this ceremony, a holy prayer is conducted and prayers are offered to Sumangalis and the bride-to-be too seeks their blessings for a happy married life in future. In this ceremony, all the sumangalis are required to wear a traditional nine-yard saree or Madisar as it is traditionally required for the pooja. The Sumangali's who attended the pooja should be in odd-number like 3, 5, 7, 9 and 11. Once the Sumangali pooja gets over, all the Sumangali's are treated with an authentic South Indian feast served on banana leaf.
Pallikai Thellichal: to perform this ceremony 9 types of grains along with curd are mixed and filled into 7 different earthen pots which are nicely decorated with sandalwood. These pots are later on immersed in the water to feed the fishes. Since this ritual includes feeding the fishes, it is generally considered auspicious for the couple's new journey and beginning in life.
Naandi Shradham: In this ritual, the bride and the groom's family pay homage to their ancestors. 10 Brahmins or less are invited for an authentic South Indian feast by both the set of families. In this ceremony Brahmins are offered coconut, flowers, paan supari, sweets and veshti angavastram (traditional clothes) and they are requested to bless the couple.
Nichayathartham (engagement): In this ritual the ceremonies begin with performing Ganesh puja by the bride's family. In this ceremony, the groom's family offer gifts, saree, jewelry and other things to bride and bride's family gift the groom new set of clothes. The bride and groom chance the dresses and wear the new clothes offered by other's family. After that the groom's sister applies kumkum and chandan tilak on the bride's forehead and the bride's brother also perform the same with groom. The bride's brother offers a garland of flowers to the groom while the groom's sister does the same for the bride. After complete all these rituals, the bride and groom then exchange rings in the presence of family members, relatives and friends.
Lagna Pathirikai: Lagna Pathirikai in Tamil translates to a wedding invitation. After the engagement ceremony, the wedding date is officially announced in front of all family members, guests and priest.
LoveVivah.com matrimonial portal gives best profiles of brides and grooms registered online for marriage. Get register with your updated matrimony profile for suitable soulmate.