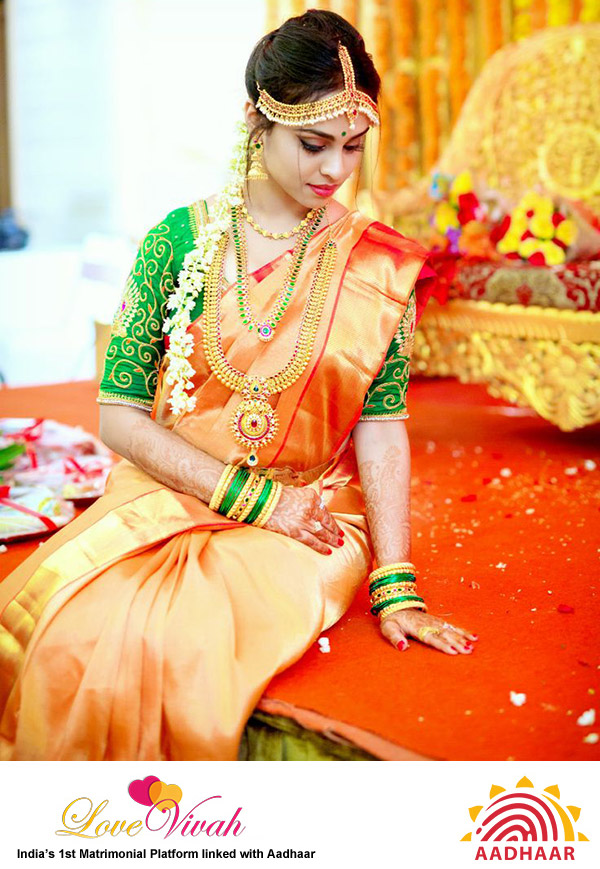 Kerala wedding is one of the most beautiful and simplest of all. You will hardly see any kind of show-off or larger than life expensive wedding there. Similarly, the wedding attire of the Kerala bride is more elegant and beautiful. Most of the Kerala brides wear traditional saree on their wedding day. Kerala people are very particular about their wedding rituals and religiously follow their traditions. Whether it is a Kerala Hindu wedding, Kerala Muslim wedding or Kerala Christian wedding, all follow the rituals and complete wedding gracefully. If you are a would-be Malayali bride and looking for wedding attire, then you can't miss exploring some traditional Kerala wedding sarees. Here, we are sharing some wedding saree options for you to consider for your special day.
Kasavu Saree for traditional Kerala bridal look: The Kasavu saree with its beautiful iconic golden zari contrasted with white cloth has become a symbol of the Malayali girl for marriage. This is one of the most popular saree for a Malayali bride. This South Indian saree is a true masterpiece and one of the most favorite wedding dress of Malayali brides. This is a perfect choice for elegant and simple looks. Mix right kind of jewelry with this beautiful saree. This saree looks really nice on all complexions, so you need not to bother about the skin tone and looks.
Modern Zari Kasavu saree for contemporary looks: If you are not really crazy about the traditional simple Kasavu saree and want to experiment with your traditional saree, then Kasavu zari saree is the right choice for you. The beautiful golden motifs at the border make this masterpiece really beautiful. There are plenty of designs and options available in the market to choose from for your wedding day. Even you can get your saree customized and get some work done on it if you want to enjoy a different look in traditional saree.  You can wear this saree on your wedding day or even on your wedding reception as well.
Kanchipuram saree for royal touch: It is one of the most expensive and preferred South Indian saree for wedding Kerala girls prefer this saree over lehenga. It is considered as Banarasi saree of South India. Kanchipuram is known for its quality, beauty and craftsmanship. It's one of the most favorite saree of Kerala Hindu Brides. This saree is easily available in almost every color and shade. This is one of most expensive sarees, so if you are ready to spend good amount on your wedding dress and budget is not a constraint for you, then this is just perfect for you.
Brocade saree for graceful look: If you are looking for something different and don't want to look like a stereotype, then this is a perfect choice for you. You can't go wrong with this beautiful saree. These brocade sarees looks really beautiful and elegant. These are even more comfortable and easy to carry. The beautiful work and designs on these sarees makes them really adorable. These sarees are available in almost all colors and shades.
Banarasi Saree to look gorgeous: This is really unconventional option for all those brides who want to look gorgeous in this masterpiece. Malayali brides can mix this North Indian saree with their traditional jewelry to get the desired looks. These are the real masterpieces and look nice on every bride. The beautiful designs and vibrant colors make this saree a perfect pick for your wedding day. You will look really stunning and gorgeous in this beautiful banarasi saree.
LoveVivah.com Kerala matrimony site provides profiles of grooms and brides for marriage. Register Now for free & search through millions of Aadhaar linked profiles!