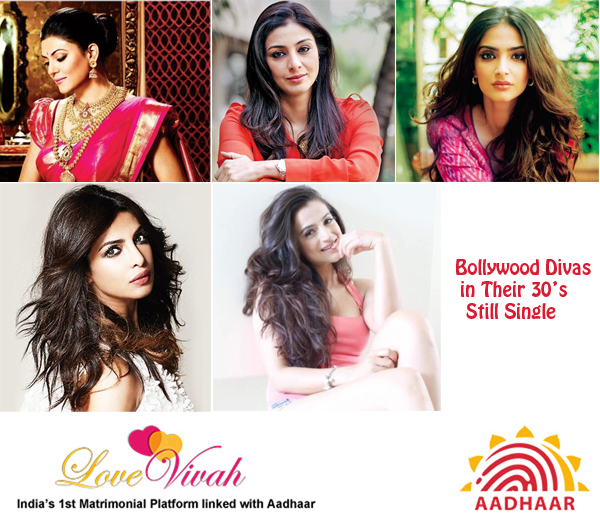 In India being a girl when you enter into your 30's, the whole world start crying about your age and other factors such as you will not get a good match or you have to settle down with anyone. All Indian parents want their daughters should get married at the age of 20's only. But, there are people who don't want to be in the league of stereotype and set their own rules. Bollywood is like a trend setter and people do follow the dressing trends, make-up trends and even get inspired from a lot of things from movies and Bollywood. Similarly, there are many Bollywood divas that are different from others and following their heart and focusing more on their career and least worried about their marriage. Let's take a look at five gorgeous Bollywood beauties who are still single and rocking the world.
Sushmita Sen: She won the title of Miss Universe in 1994, and made us proud. The first Indian women to create history and won the crown. She managed to create a niche place for herself and ruled the Bollywood Industry with her looks and talent. She is not the stereotype lady she follows her heart. She became a proud single mom after adopting two girls-Renee and Alisha. She is in her 40s and still single and happy with her two daughters. She is enjoying the motherhood. Even she is no mood to get married as now she is more concerned about her daughters not about self or finding a partner for herself.
Tabu: She is one of the most talented and versatile actress of Bollywood. She is an acclaimed actress well-known for her off-beat films and choices of roles. This single diva seems to have taken an offbeat path even in her real life as well. This gorgeous actress is in her mid 40's and still in no mood to marry. However, she has been linked with different co-stars time and again, but she still does not seem to be heading down the aisle anytime soon.
Priyanka Chopra: She is multi-talented and versatile actress. She won the Miss World crown in 2000 and after that entered into the film industry. However, her name has been linked with her co-stars time and again. But, she all the time denied such news of her relationship with any actor from the industry. She is in her mid-30s and still single. She is one of the most talented actresses of Bollywood. She has worked with UNICEF for the last ten years and was appointed as the national and global UNICEF Gooodwill ambassador for Child Rights in 2010 and 2016 respectively. She has brought so much good name not for the self only, but for the country as well. But, this successful former Miss World is in no mood to ring the wedding bells.
Sonam Kapoor: She is known for her fashion statements and considered as fashion diva of Bollywood. This bubbly and gorgeous actress is also popular for speaking up her mind and without thinking twice. She is one of those actresses who are happy being single. Nowadays, she is in news because of her alleged affair with businessmen Anand Ahuja. She is in her early 30s and still in no mood to settle down in near future. She has a very strong personality and media presence as well. She does not need any man to make her famous or support her.
Amisha Patel: This beautiful actress made her entry into Bollywood with "Kaho Naa Pyaar Hai" movie, one of the biggest block busters of that time. She became the superstar overnight. She is not only talented, but highly educated as well. She is in her early 40s and in no mood to tie the wedding knot. She is still focusing on her career. She has given blockbusters and counted as one of the most beautiful actresses of Bollywood.
LoveVivah.com Indian matrimony portal gives wedding profiles of grooms and brides. Free Registration for all! Begins your life-partner search now!