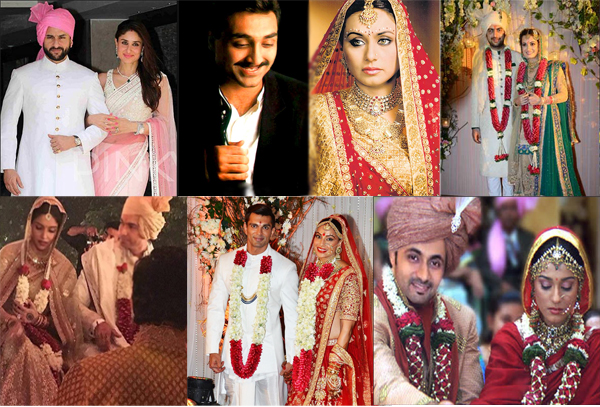 When it comes to marriage in our country, most of the time we heard about the right age of marriage and people have different opinions about right age. But, it is not the girl or guy who decides their right age of celebrity marriage, rather, the society or pre-decided norms which fixes the age of marriage. It is their relatives, family friends, grand-parents and society at large who think that he/she should get married at a certain age, which is always good to be lower than 30s. But, still there are many who are path makers and don't feel threatened with so-called rules of the society. We are sharing the list of stunning and gorgeous divas who didn't say 'YES' to marriage until they reach to their 30s. Let's take a look to those super trend-setter and go-getters in life.
Kareena Kapoor: Bollywood is ruled by this highly talented and gorgeous actress Kareena Kapoor. After almost five years of courtship and a lot of media speculations, this beautiful actress decided to marry Saif Ali Khan in 2012. They have a grand marriage celebration, which lasted for almost five days and become one of most talked about marriage celebration of the B town.
Rani Mukherjee: Rani Mukherjee is another leading lady of Bollywood industry who ruled the Bollywood industry for many years. She had been dating Aditya Chopra for the longest time before they both decided to get married and took their relationship to next level. As Aditya is being extremely private person decided to have a really personal secretive marriage where only close friends and family members attended the marriage ceremonies. They got married in 2014.
Dia Mirza: The mesmerizing beauty of this gorgeous actress leaves many people speechless. The Hyderabadi beauty decided to get married in her 30s. She tied the knot with her long-time business partner and movie producer, Sahil Sangha in 2014 in a grand ceremony.
Asin Thottukmal: The super talented, bubbly actress who won the heart of many people with her flawless acting skills got married in her 30s only. She has given number of super hit films with 'A' list actors of Bollywood. She got hitched in 2016 in a very personal and secretive wedding affair. The couple decided a very secretive wedding, but throws a grand reception, which was attended by almost all leading actors from film fraternity and business families of the country.
Bipasa Basu: The multi-talented fitness freak Bong girl decided to tie the knot in her last 30s. She was 37 year old when she got married to Karan Sing Grover, her co-star in the movie 'Alone'. The couple tied the knot in 2016, are enjoying the marital bliss to the fullest. However, she was in long-term relationship with some of the Bollywood actors like John Abraham and Dino Morea.
Amrita Rao: The sweet and beautiful actress Amrita Rao turned out to be quite a secret-keeper, when it comes to marriage announcement. No one in the Bollywood industry, even her close friends were not aware of her relationship with RJ Anmol. It was quite surprising that nobody has a clue about her love life, despite her being a part of entertainment industry. She got married when she was 34 year in age. She got hitched in 2016 in a very secretive private ceremony.
Madhuri Dixit: The Dhak-dhak girl of the Bollywood who made the whole country fall in love with her acting skills and unmatched beauty opted for an arranged marriage. She broke the heart of many Indians by getting married to Dr. Sriram Nene and left her career and country to be with her man in the U.S. At the age of 32 she got hitched in a very small ceremony and proved that age has nothing to do with finding Mr. Right.
LoveVivah.com matrimonial website provides marriage profiles of Indian brides and grooms. Find your perfect spouse from hundreds verified matchmaking.