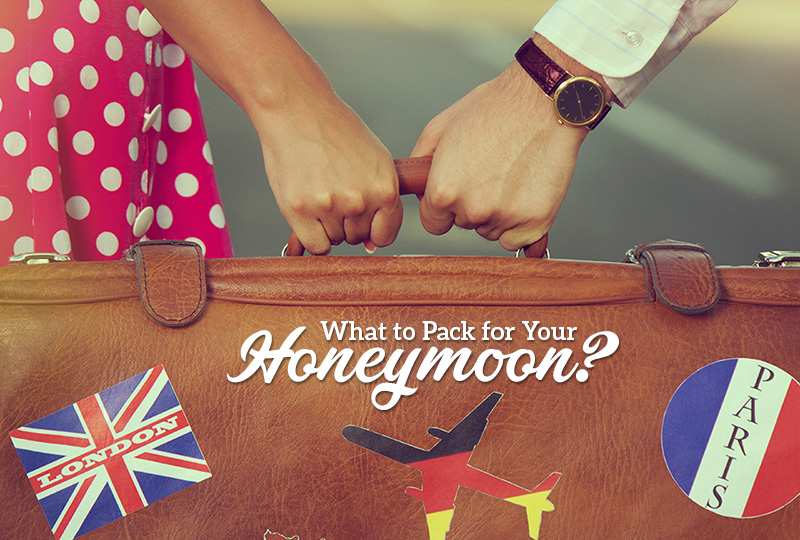 In the commotion of the wedding, we often overlook the need to be prepared for the first trip together. We may be completely absorbed in planning for our wedding, going through various matrimonial sites or related content. As a result, planning for a honeymoon might go on the backburner. And the result may be a haphazardly packed suitcase for your honeymoon. Yes, wedding needs and deserves all your time and effort, but the importance of a honeymoon is something that you must not overlook. It will be your first trip together, as a married couple, and you will be able to spend time together. It will also give you a much-needed break right after your wedding. For the Indian bride and groom, who hardly get a moment together alone, it will be the perfect time for you to relax and enjoy each other's company.
And, we do not want you to miss the opportunity to make it special or to leave anything important behind. The following is a quick look at all that you need to carry along (or leave back).
Know What Is Suitable
One size does not fit all. What may be preferable for one destination may not work for another. So, do thorough research on your destination and then choose what you may want to carry along. Look for information on the expected temperature range, chances of rainfall, local sensitivities, and the likes. In case you have not yet prepared an itinerary, you should at least know the kinds of activities you might want to be a part of. And if you do, check for any specific clothing requirement. For example, for parasailing, you may want to keep a pair of shorts, or if you are the adventure type, then a hiking outfit should go in along with the other clothes as well.
Keep A Formal – Just in Case
Even if you love the idea of being casual in flip flops and walk-in quaint little towns, consider keeping a formal outfit, just in case. You never know when a chance for a formal dinner or a lunch might show up, and you would not want to be dressed in casuals. So, do keep at least one for that special meal!
For Your Feet
Leave some of your attention to the selection of your footwear too. Often, our clothes get all the attention while our feet get none. So, depending upon the kind of honeymoon destination you pick, select your shoes. No matter what you choose, your bag must always include one comfortable walking shoes and one formal pair of shoes (to go with that formal outfit).
Don't Forget SOS
We do hope that all goes well and you never have the need to use medicines, but, it makes complete sense to keep some medicines for common ailments like fever, stomach infections, or anything that you may be prone to. You would not want to run around in a new place looking for medicines! So, include a just-in-case, medicines kit with your belongings as well.
Honeymoon can be the start of the memories of a lifetime that you will cherish all your life. So, spend a little time on planning for it and enjoy!