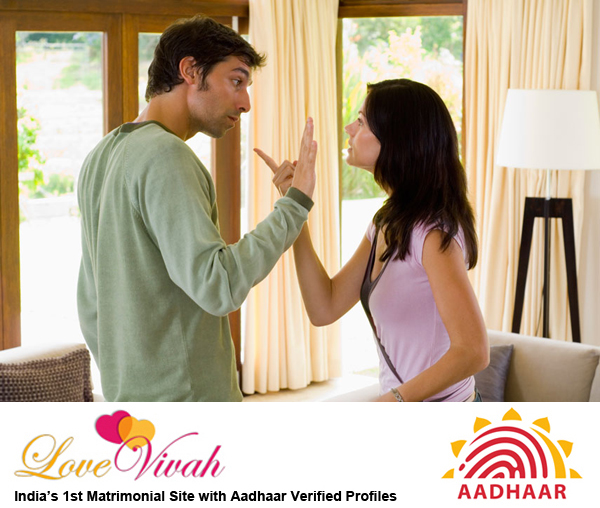 There is no couple in this world who will say that they never fight or they never had any fight or argument. Fight with spouse is very common and it is part of married life. Sometimes you fight on serious topics and sometime you fight on irrelevant and not at all worthy. Even the couples who are happy in their married life still have different opinions and thoughts. Arguments are not bad if they are done in a healthy way. But, you should always know when it is going on right track and you are sharing your thoughts and disagreement in a constructive way with your spouse and when you are fighting for the sake of fighting with your spouse. Here, we are sharing some simple ways to avoid argument with your spouse.
Don't fight for the old reasons: When you are arguing with your husband over something always ensure that you are not fighting over the dead topic. Don't dig the old topics when you are fighting. It will add more fire to your argument and take it to another level altogether. Therefore, avoid old dead topics when you are fighting with your husband.
Decide not to fight: It is not important you fight with your spouse all the time. If you decide that you don't want to fight with him/her, this way you can easily skip your fight. It is not necessary to fight over each and every topic. At times deciding not to fight with your spouse is also good to avoid unwanted arguments and fights.
Accept the way your spouse is: Always accept the way your spouse is, whether he/she is not doing all the things according to your wishes or how much unorganized he/she is, still accept him/her. It is not necessary to change him/her because you don't like things the way he/she does. Let them enjoy their individual self.
Discuss things in positive manner: Positive and constructive discussion is always good for a healthy relationship. Discuss things in positive manner. Don't be judgmental and analytical all the time. Rather than pointing your figure towards him/her or playing the blame game, just speak your disagreement in subtle manner.
Respect each-other's space & privacy: Most of the couples forget that their spouse has his/her own self and a life beyond them. Respect each-other's space and individuality. Don't behave like a detective all the time and ask end number of questions from your spouse. Let him/her enjoy some leisure time the way he/she wants to.
Listen more: Giving solutions or telling your opinion is not all the time important. At times, listing works as healer and you need someone just to listen to your thoughts without interrupting and giving suggestions. When you think that you should not say anything over a topic just listen to your partner and stay quite.
Don't be loud: Most of the time when you are annoyed with something or irritated, you just become loud or raise your voice a bit without even noticing that you are doing so. It might offend the other one and irritate him/her too. It might lead you both to a new argument or fight. Say calmly and casually whatever is in your mind rather than raising your voice.