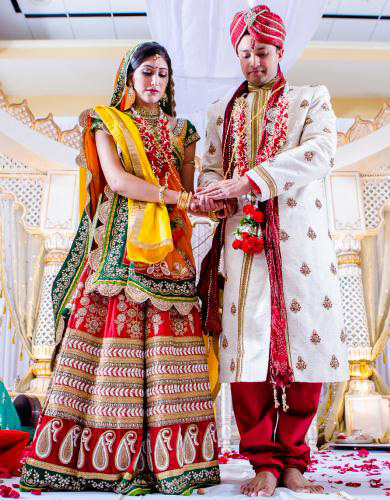 Once your honeymoon is over and you are back from your tinsel town story to the real world, you feel that life is different and something missing in your married life. You like doing something, but your spouse doesn't like it. Sometimes deciding on one simple thing gets really difficult and harder. Well, you are not the only couple who faces such things, almost every married couple goes through these situations. While some work out and find the way out to make their married life better and happier and other just give up and stop trying. There is hardly any marriage that has not faced any hitches. But, there is always a way out to make it happier and strong. Here are a few useful tips to make your relationship strong and perfect.
Think before ask him/her to change: It might be you are not happy with his/her habits, but before asking to make changes in his/her habits, it is better if you think about five different things which you like in him/her. If you are the one who is thinking about making some changes, find out ways to accept the differences and respect it.
Make occasions and non-occasions big deal: It is not really necessary to celebrate the occasions in full swing, rather to enjoy your married life you can celebrate your weekends to feel special. Celebrate non-occasion in the same spirit to feel special and make it special.
Giving space to each-other: Couples love to do many things together to increase their bonding, but it doesn't mean that you force fit yourself into everything that is related to your partner and his/her life. Give some space to him/her to make your relationship more friendly and accommodating.
Respect the differences: There is no single couple who has never faced any differences in-between. It might be you like something that your partner doesn't like. So, try to accept the differences and respect it. Be it dressing habit, eating habits or your something else, it is important that you respect it and live happily with it.
Become BFF: Couples are not just the life partners, but they are everything to each-other. Besides respecting and loving each-other, it is important that you become the best friends. It is important to be-friend. Listen, think and understand the point of view of your partner and try to think that he/she too has a life and he/she is not just your partner, but your friend as well.
Kids doesn't mean end of married life: Kids complete your relationship and you become more responsible as couple. It doesn't mean that after having a kid your married life or love life ends. To keep your love life and relationship going, keep the fire of romance alive in your marriage. Go out for dinner, or go on some short vacation to spend some quality time together.
There is no perfect recipe, keep trying: There is no set formula for a perfect and happy married life, it is important to keep trying till the time you don't find a solution or your own happiness recipe. Give some time to each-other and build good understanding over the period of time.
Indulge in new things in your 'WE' time: Be it five years or ten years you are in this relation, try and indulge in new things and explore new things as couple. Explore new places, try some new food. It will bring newness in your relationship. Always keep some "WE" time to enjoy the company of each-other.
LoveVivah.com marriage matrimony portal gives Indian brides and groom profiles for wedding. Register now for selecting future partner with verified matchmaking.