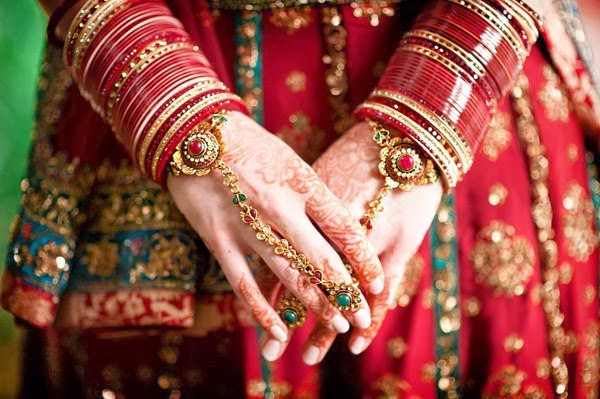 Bangles holds special place in the wedding traditions and you can't imagine a single Indian bride without beautiful bangles. Bangles are not just ornament or accessories for a bride, but a symbol of being a married woman blessed with full and happy married life. When an Indian woman gets married, it is her bangles which she adores first. India is land of different cultural mix and wedding rituals. The women in different states wear different color and types of bangles as wedding rituals. Let's take a look at the bangle traditions of different states.
Brides in Maharashtra: The brides in Maharashtra generally wear green bangles in their weddings. The basic and mandatory color of bangles according to tradition is green. However, they mix these green bangles with gold kadas or other color bangles and kadas to mix with their wedding dress.
Brides in Punjab/Sikh bride: This is one of the most popular and trendy thing for brides. The Sikh brides wear red color chuda. These red and white bangles are really important in Sikh/Punjabi wedding traditions and you can't imagine a Sikh bride without chuda.
Brides in Gujarat: You can easily see a Gujrati bride in green, gold and red bangles with beautiful work and stone work. This bangle set is gifted to the bride by her mother as token of luck for her new journey and married life. This is surely important for the bride and her mother and symbol of their bond and true love for her mother.
Bride in Kerala: The Malayali bride can be spotted wearing heavy and a lot of gold jewelry and gold bangles. They prefer wearing gold jewelry and it is symbol of their financial status and reputations in the society. Just like any other bride, all Malayali brides don't wear glass bangles, rather, you can see them wearing heavy gold kadaas on their wedding day.
Bride in Karnataka: The brides in Karnataka wear simple and beautiful glass bangles with combination of gold. They wear glass bangles in dark color like blue, green, red and yellow which are paired with gold kadas or bangles.
Bride in Rajasthan: Rajasthan is famous for its vibrant and colorful culture and soulful tradition. Here, you can see brides wearing famous Rajasthani bangles. The brides combine many colorful bangles to make their wedding chooda. The bangles have many designs, colors, work and made of lakh.
Bride in Kolkata: Bengali brides wear coral and shell bangles which are popular as Shakha and Paula. The ritual is performed by seven married women and has its importance and historic relevance as well. All married women wear these bangles as symbol of their happy and fulfilling married life. These bangles hold special place in a married woman's life.
LoveVivah.com matrimony portal gives online facility for grooms and brides for marriage. Search your dream partner from Aadhaar verified profiles.