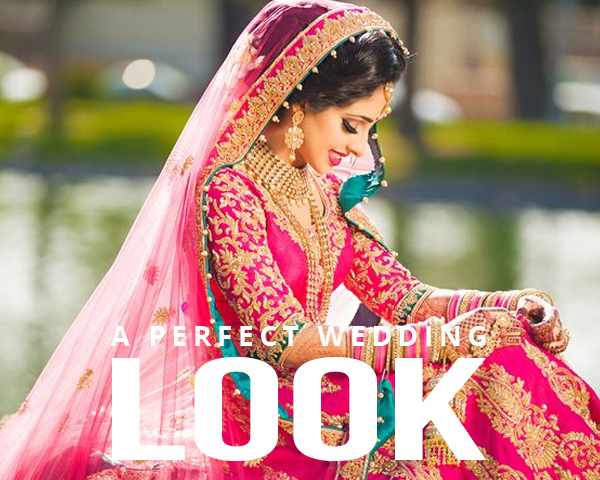 Buying the perfect wedding dress, looking the best on the D-day is one of the top priorities of every bride. She wouldn't want to miss even a single opportunity to catch the fancy of everyone on wedding day. Jewelry is one of the most essential thing in bridal look. You can't imagine a bride without good wedding jewelry matching her wedding attire. These wedding jewelries are very important and have their own significance. To woo your lady love and to make her feel special you can gift her something really special and royal which she can flaunt on the wedding day. Here, we are sharing some essential bridal jewelry which you can gift her to complete her wedding looks.
Earrings: A good matching earring is an essential jewelry for a bride. You can gift her gold or diamond wedding earrings as marriage jewelry. Before buying the matching earring for her, ask about her preferences and choices. Is she looking for an average length earring or for heavy earrings? Besides, don't forget to ask about the stones and kundan work if she is fond of it. Most of the brides prefer kundan jewelry when it comes to buying wedding jewelry. Buy a nice pair of earring matching her wedding dress to complete her bridal look.
Ring: You can give her a nice ring as a wedding gift. There are plenty of options available in the market to pick as wedding gift for her. You can buy a big nice wedding ring matching her bangles and other jewelry. Buy diamond studded or gold ring for her. If you have already gifted her diamond ring on the engagement ceremony, then you can gift her gold or some stone ring matching her wedding attire. Try to buy some big ring for her, covering her fingers to give a fuller look to her hands.
Anklet: Anklet is one of the important piece of bridal jewelry. A bridal look is incomplete without bridal anklet. You can gift her heavy anklet for the wedding day. These anklets are available in different designs, patterns, and weight. You can buy heavy anklet with tinkling sound which looks very sweet. Stone studded anklet looks very beautiful and most of the brides prefer these anklets.
Kamarbandh: This is very beautiful and pretty ornament and looks very nice with bridal attire. This waistband a kind of beautiful belt that adds grace to a bride. This special ornament is designed beautifully to add grace to the looks of a bride. It allows you to hold key bunch and special jhalar to add more beauty.  Nowadays, brides prefer thin and sleek kamarbandh belts instead of heavy kamarbandh belts. You can get it customized according to her interest and taste. If you want you can ask the jeweler to add some stones in the Kamarbandh to complete the bridal look.
Necklace: If you want to gift her something precious and elegant, then a necklace will be a perfect choice for her. Gift her an elegant necklace that she can wear as wedding jewelry on her wedding day. These neckpieces are available in gold, diamond and kundan as well. Buy a gorgeous neckpiece matching her wedding dress. If she is planning to wear it with her wedding dress, try to match it with her other jewelry as well to completer her bridal look. If you are not sure about the design and length of the necklace, ask her preferences.
Maang Tika: This is one of the most gorgeous head accessory and worn by most of the brides on wedding day. A bridal look is incomplete without an elegant Maang Tika. It has its own relevance and importance in wedding rituals. It signifies the holy union of male and female on spiritual, physical and emotional level. Always try to buy a maang tika with stones and beads, they look very attractive when your maang tika falls on the forehead. This is available in different size, shapes and designs according to different choices of people.
Nose ring/nath: Wearing Nath or a nose ring is an age-old custom and one of most important ritual. In some communities, it is very essential to wear a nose ring on the wedding day as they consider it very auspicious. Even in some states the size of the nath also represents the financial status of the in-laws. You can gift her a nice nose ring/nath on the wedding day as bridal jewelry. Always buy the perfect size nath as if you buy too heavy and big nath, then it might make her uncomfortable during the wedding rituals. So, before buying a nose ring for her take her view on it.