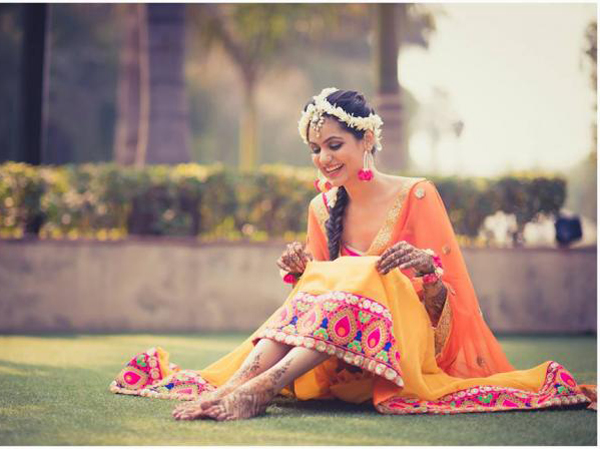 Are you the one who wants to try something new and nice on different wedding ceremonies? Do you want to look different on your mehendi day? Want to explore some unconventional options in jewelry to grab the attention of everybody? Floral jewelry is good option to look different. It is very much in trend and many girls prefer floral jewelry over conventional jewelry these days. Besides, there are many celebrities, who tried floral jewelry to look different on their mehendi/sangeet night. We are here sharing some useful tips with you to buy some classic and trendy floral jewelry:
First fix the venue: It is important that you first decide the venue of your mehendi party. If you are conducting the wedding mehendi ceremony at some distant location or in some farmhouse, which is far away from your home in that case try to find out venders close to your venue. It helps in keeping the jewelry fresh for longer time.
Freshness is important: Some brides have concern about the freshness of the floral jewelry as they believe that it might get dull and stale if kept for longer time or used for whole day. This is a wrong belief. The floral jewelry remains fresh for almost two days, so you need not to worry about the freshness of the jewelry.
Color of the jewelry: Choose a color that will go well with your attire. If you are going to wear something in single shade ask for floral jewelry designs that will go well with your dress. If you are planning to wear two shades dress, so you can wear jewelry in contrast to your dress. You can also share the picture of your dress to help the jewelry artist to create something nice for you.
What is the right time to place the order?: It is good if you will order your jewelry well in advance. What is the right time to place an order for the jewelry? Start searching the vender at least 15-20 days in advance. One you finalize the artist/vender, try to visit their showroom at least once to see their work. Place your order at least 10 days before the ceremony, so that they will get enough time to make the jewelry as per your requirement on time.
Which ornaments can you order?: The floral jewelry offers almost all the ornaments, which you can order for your ceremony. You can order jewelry like mangtikka, necklace, rings, earrings, bracelet, bajuband, bangles, kamarbandh, chabichalla and anklets. So, choose your jewelry the way you want to look. Try to avoid bracelet and anklet for your mehendi ceremony as you are supposed to apply mehendi on hands and feet.
Set your budget: You can easily get your floral jewelry within a decent amount. There are venders who can provide you floral jewelry between Rs. 3000 to Rs. 9000. If you need some selected items only in your jewelry, then there might be chances that you will get your jewelry in lower budget as well.
LoveVivah.com Karanataka matrimony website provides unmarried boy's & girl's profiles for marriage. Register to search your future spouse.