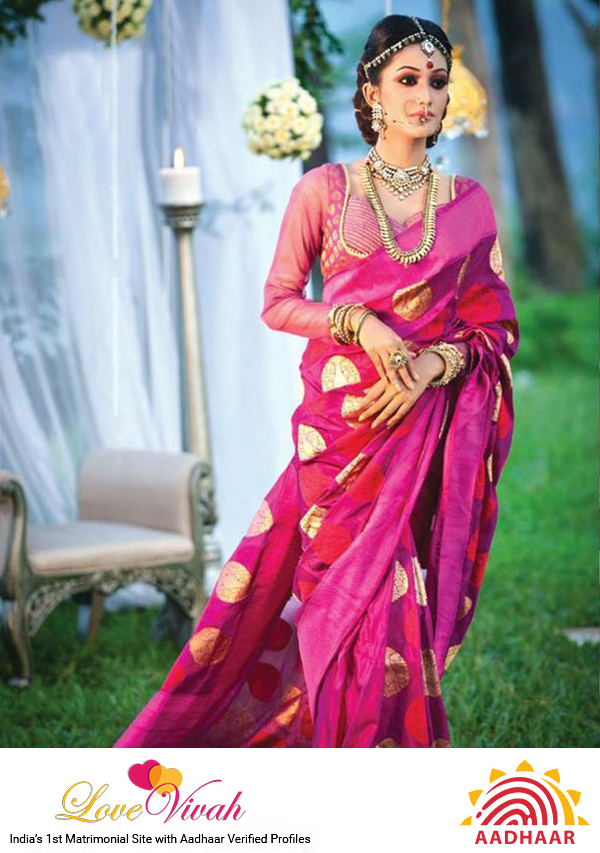 The wedding shopping is never over until wedding day. When you start counting your things and check your shopping list, you find something or other missing from the list. Once you buy your wedding dress the next big thing that bothers you a lot is buying the right matching accessories. Between your wedding accessories like jewelry, footwear, bangles, and other things to match with your wedding dress. Before you buy anything, it is important to know more about how to buy the perfect accessories matching with your wedding dress.
Buy right jewelry: You should always remember that every metal does not go well with all kinds of embroidery and fabric. For a red, maroon or dark color dress you can buy a nice studded jewelry. For your thread work dress or golden thread work dress you can pick jewelry in Kundan, whitegold or yellow gold. You can also pick wedding jewelry in pearl and stones if it is going well with your dress and giving you your desired look.
Remember less is more: It is not important to be loaded with a lot of jewelry on your wedding day. You can also plan to buy minimum jewelry matching with your dress. It is not always necessary to buy too much jewelry like too many neck pieces, bangles or other jewelry. If your dress has heavy work on this, then you can buy basic jewelry for your dress to make the perfect balance.
Pick right bangles: To complete your wedding looks it is important to pick right kind wedding bangle set for your wedding day. Nowadays, brides prefer to buy chuda instead of simple bangle set. However, some brides prefer to buy traditional bangle set on their wedding day. But, don't forget to buy the right kind of bling and shimmer on your bangles matching your dress. Always remember that you are buying the perfect color combination of bangles matching your dress.
Pick right earring: A right earring matching your wedding dress can enhance your overall bridal look. It is not necessary to buy the heavy dangles for your wedding day. If you think a normal size dangler is going well with your dress then you can pick that as well. If you are opting for heavy and long dangler it might be you will not feel comfortable with your overall makeup and dupatta on your head. So, always keep your comfort in mind before finalizing any.
Pick something comfortable: While buying anything always remember that you are picking something which will make you comfortable. On your wedding day, you must be a bit nervous and excited too. Indian wedding rituals lasts really long for almost for more than 6-10 hours. So, to stay relaxed it is important that you pay attention to your comfort level.
Comfy shoe: At the time of buying your wedding shoe, always remember that you are buying the comfortable pair. If you are not habitual of wearing high heels, so don't go for high heels for your wedding because everyone is wearing the same. If you are comfortable with block heels or normal heels buy the comfortable one only. Always consider about your comfort level because you are going to wear that footwear for longer time not for an hour or so. Buy the shoe that is mixing well your dress and comfortable as well.
LoveVivah.com Marathi matrimonial portal give grooms and brides profiles for wedding. Check our latest matchmaking resumes for perfect spouse.