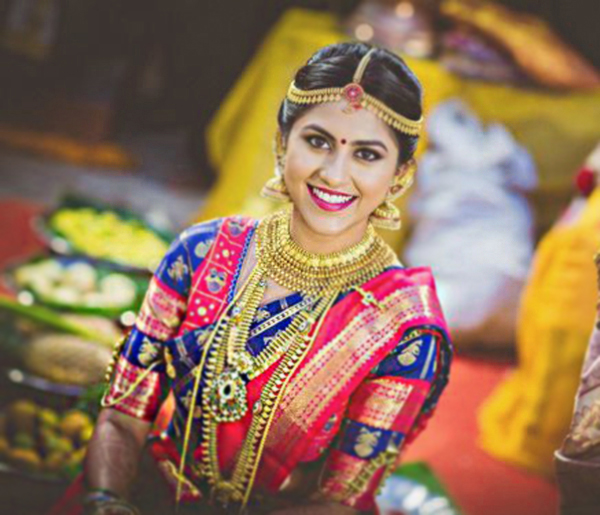 When it comes to wedding everything is important, even the tiny things are also important. From your wedding dress to make-up, to your mehendi and accessories everything is important. You don't want to take a chance with anything when it comes to your most important day. You want to look great on your wedding day and can't take a chance with your looks. Your wedding jewelry is very important and you should always consider a few things before buying the wedding jewelry.
Don't copy designs:  Most of us make this common mistake while buying our wedding jewelry. We want a jewelry, which we have seen in any magazine or we have seen any actress wearing that in some movie or in some serial. Therefore, finding such kinds of jewelry is really a tiring task and at the same it might prove expensive as well. There are chances that that jewelry was going well that dress, but it might not suit your wedding saree or dress.
Think about your wedding dress: Before buying the wedding jewelry, think about your wedding dress. If you have not finalized your wedding dress and not sure about the color combination and work of your wedding dress, then it is better to buy it first. Wedding jewelry worn on lehenga is different from the jewelry worn on saree. Therefore, it is important to decide first whether you are going to wear a saree or a lehenga on your wedding day.
Heavy-low weight jewelry: Before buying the jewelry, it is really important that you decide whether you want to buy heavy or low weight jewelry. Make up your mind before buying your jewelry. You want to go for heavy stone work with meena and kundan jewelry or you want to go for sleek, delicate nice jewelry.
Mix and match your jewelry:  If your wedding dress has two-three colors, then it is not necessary that you just go with one type of jewelry piece. You can mix and match your jewelry accordingly. If jewelry of your other sets are also going well with your wedding dress, you can choose and finalize the one that look more stunning with your dress.
Pay attention to detailing and work: While choosing the jewelry, it is important you pay enough attention to detailing and work of the jewelry. Check each and every piece minutely to avoid any issue later. At times, there are some defects in the jewelry and we don't able to figure it out there in the lights. Once we reach home, we are able to identify such issues and then we need to rush again to replace it or change it. Check the jewelry in sunlight if possible.
Type of stones and metal: Imagine your wedding outfit and think about which type of stones and metal will go well with your wedding outfit. If your wedding outfit has golden thread and stone work, then kundan jewelry will go well with the dress. Similarly, if you are going to wear a saree in your wedding, a good gold jewelry will look stunning with it.
Your budget: Before finalizing any jewelry, it is important that you decide your budget. If you know your budget in advance, the salesman will show you jewelry within your budget only. It will help you in deciding the jewelry faster and you will not get tempted to buy an expensive one.
LoveVivah.com Rajput matrimony website provides online platform for marriage in India. Search your partner from verified matchmaking profiles.