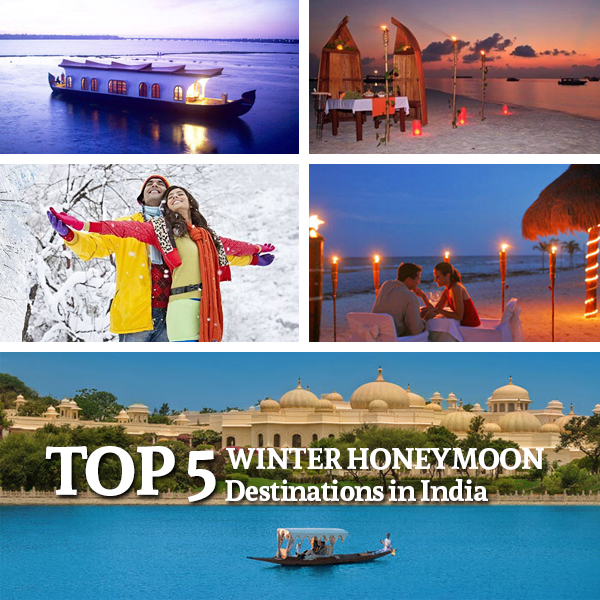 Post all the hustle and bustle of Indian wedding it is finally the time to relax. Yes, the honeymoon period, which every couple looks forward to as an enticing start to a beautiful journey. Deciding on the honeymoon destination has to be a well thought of process, finalization happening post a mutual discussion, which respectfully takes into account the preferences of both partners. Here we are listing top few winter honeymoon destinations for mountain lovers, beach lovers and those who have an inclination for art & architecture.
Kashmir
Paradise on earth, as its commonly known, Kashmir is a perfect winter honeymoon destination to unwind and rekindle the flame of love for the newly-weds after long and tiring wedding ceremonies. Srinagar, Gulmarg, Pahalgam offer the perfect serene setting for honeymooners and is also less crowded than other nearby dest9inations like Shimla and Manali. An ideal honeymoon in Kashmir/ Gulmarg has to be a combo of skiing, trekking and exploring the beautiful nature sights in town.
Kerala                                       
Kerala offers a splendid mix of green tea plantations, foggy mountains, sandy beaches, backwaters and serene resorts, making it a most desirable place to visit during winter for honeymooners. Its unparalleled beauty & attraction is something you can't afford to miss. If you are looking for a pleasant stay in midst of lush green mountains, visit Munnar. If you want to enjoy your time together on a houseboat, enjoy Kerala's famous backwaters in Alleppey. However, there is an endless list of off-beat winter destinations like Kochi, Munnar, Wayanad and more for those who want to explore more in Kerala.
Goa
If you love beaches, Goa is undoubtedly one of the best beach destinations to visit during winters. Though this is also the peak tourist season which might make you feel lost in the crowd. Though that nowhere concludes to avoid goa as a honeymoon destination, rather suggests being a little cautious about choosing the beaches you visit in goa. Few isolated beaches like Miramar Beach, Morjim Beach (also known as Little Russia), etc. can be the best options for honeymooners, offering a harmonious ambiance echoing the local trance.
Andaman and Nicobar Islands
These islands are a bit isolated from the Indian peninsula, but they make for a perfect beach honeymoon destination. Port Blair and Havelock Island are the top tourist places in the Andaman. While Port Blair is recognized for its rich history, Havelock is a treasure trove of natural beauty. Andaman and Nicobar Islands offer a perfect and fabulous environment for a romantic honeymoon.
Rajasthan
Rajasthan is well-known for its rich heritage, art & culture, historical monuments, heritage hotels, fairs & festivals, shopping, wildlife experience and most importantly the taste of Rajasthan. Though mostly avoided in summer season due to extreme warm weather, this makes for a perfect honeymoon destination during winters for all art lovers. To top it up, a stay in a heritage hotel giving a king like feeling is a unique honeymoon experience to be cherished forever. Udaipur, Jaipur, Jodhpur, Ajmer, Ranthambore National Park are a few key places to visit in Rajasthan.