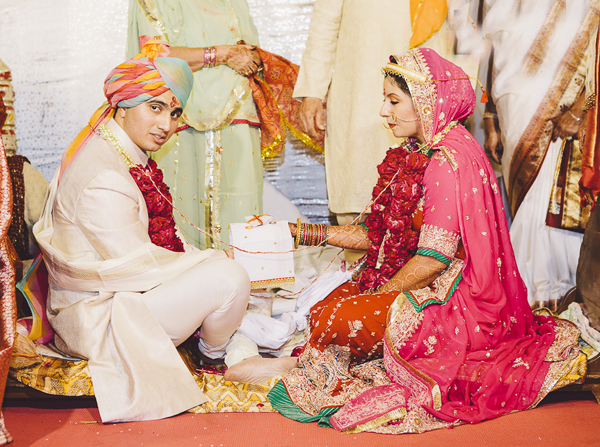 Marriage is one of the most beautiful relationships and can be bliss if nurtured well. The one thing that connects you with your soul-mate is your understanding and love with your partner. But, if your relationship is not that great and you failed to manage it well, then you land into a foul soup. Everything in that relationship appears complicated and troublesome. It increases fight and tensions among the young couples. As a newlywed you need to pay more attention and time to this relationship. Here, we are sharing some tips for newlyweds to make your married life happier.
Don't involve your family all the time: It is good to take advice from your elders and take their help and suggestion if it is really required. But, it is not at all suggested to involve your parents or in-laws in every big and small matter. Take your stand and make your own decisions. It is good if you avoid involving your parents and other family members in your personal matters.
Don't go to bed in bad mood: Arguments, small clashes and difference of opinions are common in very relationship and even in happiest marriage as well. Your partner can't all the time accept and agree upon your thoughts and idea. Learn to accept the difference of opinions in a lighter note rather than reacting on it immediately or just holding them for some time. All couples must settle down their differences or any kind of conflicts before they go to bed. It is important to stay happy and feel stress free.
Keep it simple and wait for some time: There are many couples who just jump into a new role just after marriage. There are lot things you are expected to cope-up with after marriage like settling down in new family, understanding issues with family and your spouse, job changes and maintaining a balance between your office and home. Therefore, it is advisable to avoid planning a family just after your marriage. It is good to wait for at least six months or more or until you feel that that you are well settled in new family and comfortable to take this new responsibility.
Track your money: One thing over which most of the couples fight frequently after marriage is money. As a married couple, you must be surprised to note that your money just flies away and it is really difficult to track it. But, make a habit of noting down each and every expense, making a monthly budget and sticking to it religiously. Track your money and try to save money for your future. Avoid asking money from parents and in-laws. It can trigger clashes and arguments between you.
Don't quit your job: After marriage, you will find that your overall monthly expenses increases and to combat that it is important that you have sufficient money flow. If both of you are working, you will find it easier to save money and invest your money to gain combined financial success. It will also help you to keep yourself busy and tuned with your routine.
Follow your dreams: It is important to have dreams and chase them. It is good for individuals and for couples as well. It gives you a platform where you both started thinking similarly. Your dream could be anything like taking a new job, starting a new business, buying your own house or something else. It is important to share your idea with your spouse, take his/her views and suggestions. It will strengthen your bond and build your understanding as couple.
Work as team not individuals: A happy marriage is all about working as a team not as two individuals. Take care of each-others requirements and needs. Try to do household chores together or divide your responsibilities to ease your burden. It will build your bonding and you work as team to meet your daily requirements. It will give you the feeling of a happy couple and will improve your relationship with your spouse.
LoveVivah.com Urdu matrimony portal gives online profiles of brides and grooms for wedding. Search your dream life partner from hundreds of matrimonial profiles.