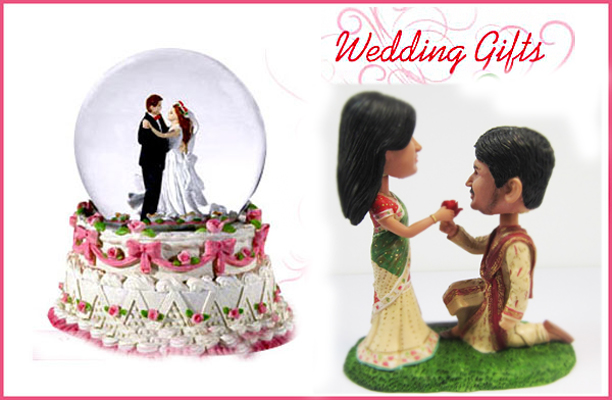 Do you really think that choosing a wedding gift is really simple? Do you want to gift that so common kitchen appliance as gift or you are looking for something different? Some people really believe that selecting a special gift is really simple and you are not required to put much energy on it. Nowadays, it is not that simple to choose a marriage gift as there are numerous options available in the market to choose one. Do you want to give something really expensive or you are thinking about something in your budget? Here are some important tips to choose the best gift.
Buying gold/diamond jewelry: This is one of the most traditional and preferred gifting idea. If the budget is not constrain for you and you can spend a good amount to buy a nice wedding present for the couple, then gifting them gold or diamond jewelry is nice option. You can buy gold or diamond ring bands or you can buy a bangle and bracelet set for them. Depending upon your budget you can choose the gift in gold or diamond.
Giving cash/cash gift vouchers to the couple: Most of the people in our country prefer giving cash then any gift. Generally, people are not sure what is really required or not or whether the couple would like the gift or not as in many cases you are not aware of their taste and liking. Therefore, the best way out in such situation is gifting them cash rather than giving them anything. Nowadays, there are many outlets which offer gift vouchers starting from Rs. 5000 to lakhs. So, you can also gift them these gifting vouchers so they can buy a gift of their choice with that cash gift voucher.
Gifting electronic items: If you are aware of the requirements of couple or you already discussed with them what they really require as electronic item, then you can gift them electronic items such as TV, fridge, washing machine, microwave or mixer grinder, etc. You can select a gift that suits your budget and at the same time is required by the couple.
Smartphone for the newlyweds: Smartphone is one such gift, which is always welcomed by all. You can gift smartphone to the couple. If you know what kind of smart phone is required by them or they are looking for a good smart phone then gifting them a smart phone is really a nice idea. There are various brands available in the market with numerous features. So, choose the most trendy and smartest phone for the newlyweds.
Honeymoon package: If the couple has not planned about their honeymoon or yet not finalized the destination, then gifting them a honeymoon package is really awesome option. You can book a honeymoon destination with package for them in India or abroad depending upon budget or preference. You can discuss with the couple about their desired destinations and book a package accordingly. There are various online sites like MakeMyTrip, yatra.com, Expedia.co, Triviago.com and many more which offers national and international honeymoon packages.  You can also book honeymoon packages from tour and travel companies such as Thomos Cook, Club Mahindra, and Rai Travels, etc.
LoveVivah.com wedding portal provides online matrimonial services for Indian brides and grooms. You should gift suitable candidate profiles for marriage.