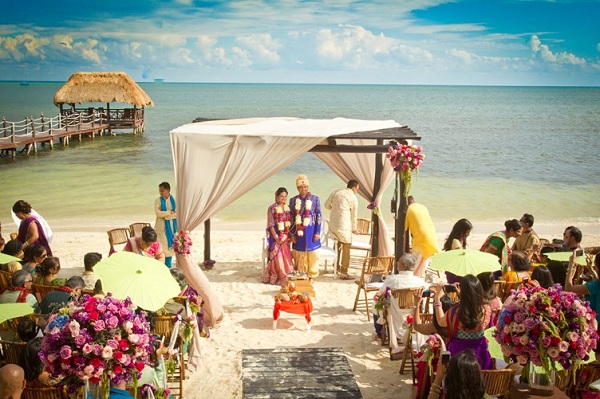 Indian weddings are primarily known for their magnificence and spectacular setups. And why not, it's once in a lifetime event for any couple and they have huge expectations for their THE DAY. A simple reason for such huge expectations is, being brought up in a society where they have been witnessing and enjoying such large scale wedding since their childhood. But they were never aware of the darker side of such weddings. It's been widely seen that parents and family of the bride would go an extra mile beyond their limits, to arrange for a super lavish wedding.  Even if that means getting into huge debts just to celebrate that one day and please others.
Here is a million dollar question – Whether to go for a lavish wedding or opt for a simple wedding, keeping it a close family affair? Let's help you take a closer look at the major areas which contribute to the maximum expense of a lavish wedding:
Wedding dress – Every Bride's dream is to look like a princess on her wedding day, and she would not mind spending a huge amount on that one dress/ lehenga that is to be worn for not more than a few hours. And probably would never ever be used again in future. Same goes for a groom's attire as well. Will he is wearing that expensive sherwani or a 3 piece suit ever again? If the answer is no or maybe, then probably the decision to go for an expensive wedding dress should be reconsidered.
Venue & Catering – It is a place that will accommodate all your distant relatives, friends, known and not so known people who would be there just to enjoy an extravagant event and a lavish dinner with elaborate menu options on the card. They all will be there accompanying you on your big day but have you ever thought, would they all be there to support you in time of need? The number would perhaps boil down to less than one percent. Is it worth spending your hard earned money for such people – give it a thought.
Invitation cards – Latest trends on wedding invitation cards is not just catching the eyeballs but also creating hole in the pocket. Fancy invitation cards accompanied with sweets / dry fruits/ a gift box look really appealing and though there is no denial to the fact that the receiver will appreciate such invitation, but do you really think it will make any significant difference in the feelings of the host or the guest? Will this card be there with the receiver for the life time? Surely NO! Then why to invest highly on them?
Gifts & Favors – Last but not the least, presenting gifts to everyone attending the wedding forms a significant part of the Indian wedding. Believe it or not, the value of the gift is judged in monetary terms only. The one who receives the gift might or might not value the gift, but whatsoever be the case, you would have already spent a lot on the gifts. So, what do you think? Is it really worth spending money on these gifts?
For a bride or groom belonging to upper class of society, all these expenses might look miniscule when compared to the pleasure they offer, but still, the need and importance of these affairs is debatable. For a middle class Indian bride or groom, it is much beyond the debate, as every extra penny spent is likely to hit on your budget. The same amount can probably help you ease your day to day life expenses.
Its about the priorities that the couple and their families set for themselves – whether they want to spend wisely or just spend to please the society – worth giving a serious thought!