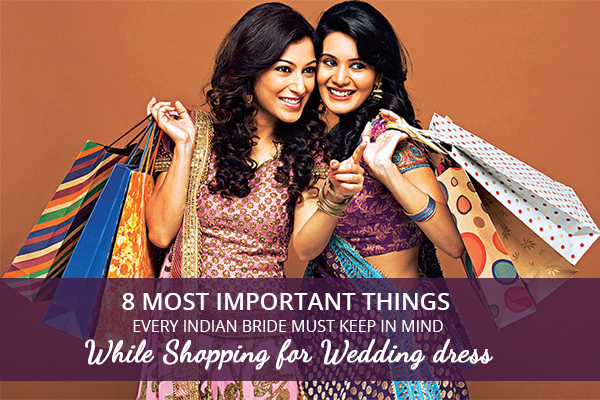 Shopping for the Wedding dress is definitely one the most exciting aspects of the wedding preparation for any bride-to-be. The desire to look stunning, catching the attention of all those attending the wedding, is what every bride strives for. However, the process of picking the perfect wedding dress is not always easy. Being too casual about wedding shopping could land you in trouble and last minute blunders. With a few cautions and proper planning, the wedding shopping experience can actually be fun.
Listed below are a few things every Indian bride should consider before and during the wedding shopping:
Keep your wedding season in mind
Don't ignore the season's role in your wedding. Too heavy wedding dress in screeching hot summers would be a disaster, as same as light skimpy dress in winters. Make sure you choose your wedding dress accordingly, to avoid any discomfort on your big day.
Plan with your fiancé
Though it is important for a bride to look stunning, but it is equally important for the bride and the groom to look well-matched on their wedding day. Hence planning your wedding shopping in silos is not a great idea. Surely, you would want to portray yourself as the best couple, rather than just "you" alone.
Do your homework well
Once you are clear about what kind of dress you would want basis the weather conditions and matching with your partner's wedding attire, it is always recommended to search for options online. This will give you an idea about the latest trends in the desired segment and tentative budget requirements as well.
Do not Shop too early or too late
Make sure to plan your wedding shopping at a rational time from your wedding date. Too early purchases might make you feel uninterested in your choice by the actual date, whereas last minute shopping can put you at risk of goof-ups. 2-3 months before wedding is the best time to start bridal dress shopping.
Finalize your Budget
Be clear on your budget for the wedding dress and plan your shopping accordingly. Going shopping with unplanned budget, might tempt you to spend unreasonably on the wedding dress which you might regret later. Avoid the places that might fall apart from your budget range as it would mean a sheer waste of time and energy.
Go shopping with someone you trust
Go shopping with someone who has patience and a good fashion sense too. Avoid shopping with too many people as it will create havoc. A sibling or a friend or some trustworthy close relative can be your best shopping partner.
Don't settle for the first one…but avoid trying too many
Even if you like the first dress you check out, do explore at least a few options instead of settling down at the very first option. Though trying too many options is again not a good idea as you would get more confused and exhausted in the process of trying each and every dress that you come across.
Equally prioritize your comfort
Last but not the least; do not compromise on your comfort. Your bridal look is important but not at the cost of your comfort. An uncomfortable wedding dress, how so ever elegant or beautiful, will ruin your entire wedding excitement. Discomfort owing to your dress, will surely reflect on your face and will mar your wedding looks.