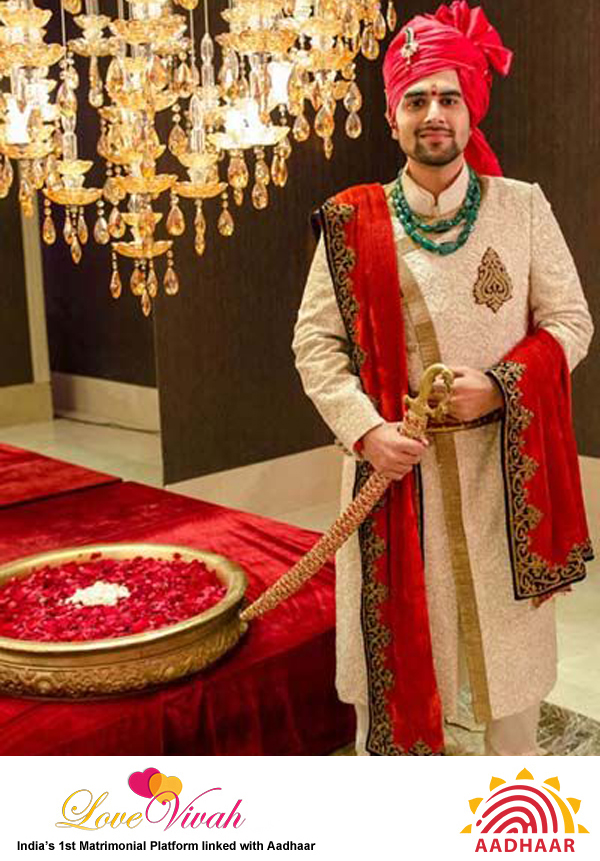 Gone are the days when Indian males were not bothered about their looks and they used to wear selected colors and dress. Nowadays, the males are also paying attention to their looks. They don't want to limit themselves with two or three traditional manly colors or styles. They are keener to experiment with their looks. Thanks to the Bollywood and different designer houses who are busy in making these wedding wear more stylish and trendy. Nowadays, the soon to be married men have lots of options not only in terms of wedding wears, but also in terms of color as well. You can pick your wedding dress in various vibrant and chick color.
Peach: The best thing about peach, it is very soothing and nice color. It mixes well with other colors. You can pick anything from a sherwani, lower or a jacket in peach. Steal the trendy look by wearing this different and soothing color on your wedding day. Don't forget to match your color with your bride's attire.
Purple: This color is very royal and rich. It has something in it, something very magical and royal. If you will buy your wedding dress in this royal color you will add elegance in your personality. You can pick any shade of purple from royal violet, plum and raisin to the lighter shades like lilac, lavender and some similar tones. You have a very wide range to choose from as your wedding dress color and look elegant on your D day. This royal color will look nice on both on wedding sherwani and even on wedding suit.
Champagne: This is very classy and elegant color which looks nice on almost every one. You can include this bold color in your wedding jacket or sherwani. It is just a perfect choice for all those who want to go for elegant and sophisticated look on their wedding day. Make your special day more royal by adding a touch of this elegant and romantic color to your wedding dress. A sherwani in this elegant color is a perfect choice for your wedding day.
Powder Blue: Blue is one of the most favorite color of almost all males. You can't imagine a male's wardrobe without anything blue in it. But, this new shade of blue is also gaining popularity among the modern males. You can try this soothing and cooler version of blue for your wedding suit or even for your sherwani. Men's western wear simply looks stunning. You can wear a cool white shirt with your blue wedding suit to complete your wedding looks. Even, you can wear something trendy on your mehendi ceremony to make your style statement.
Grey: This is one of the most preferred non-traditional and elegant colors. It is just a perfect choice for modern men. Whether you are planning to wear a sherwani or suit, this color is just perfect for you to make your style statement on your wedding day. If you want to look super stylish, yet traditional then this color is just perfect for your wedding dress. You can opt for a wedding suit or jacket or sherwani in grey color teamed up with some other contrasting shade.
Yellow: Yellow is no doubt a tricky color and it is not easy to carry. With the right combination of yellow mixed with some other shade can help in making you style statement. If you are not very sure about wearing yellow on your wedding day, then you can wear this joyful and vibrant color on your sangeet ceremony or wedding reception. You can wear a white kurta with yellow color jacket or yellow kurta with white churidar to make your style statement. This is a shade which is so bright and colorful and just a perfect pick for your exciting wedding events.
LoveVivah.com Agarwal matrimony site provides profiles of grooms and brides for marriage. Register Now and start your partner search with Aadhaar verified profiles.