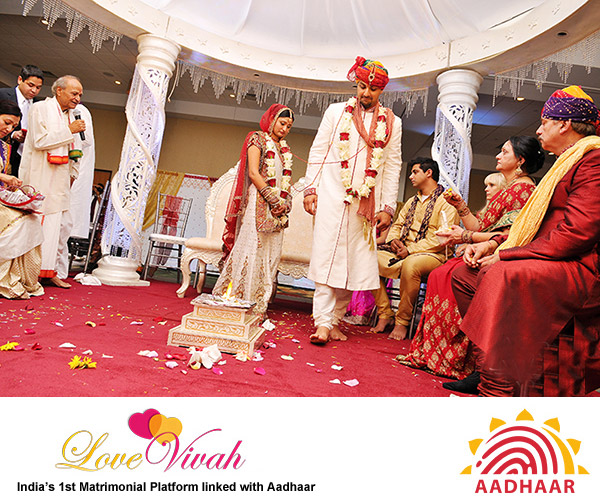 You must have noticed in every Hindu wedding, bride and groom take seven wedding vows around the holy fire. They take the wedding vows in the presence of their family, relatives and friends as witness of their holy tie. No Hindu wedding is considered complete without these holy vows. This is the way for couples to confirm their commitment and sincerity to the new relationship they are entering into.
Each of the wedding vows is followed by a Phera or a round around the holy fire. Generally, most of the couples in the excitement and eagerness to complete this ceremony overlook these important seven vows of marriage. These seven vows have special importance and significance in Hindu marriage. Let's take a look at the deep meaning and significance of these seven wedding vows of marriage.
First Phera: The first step of this journey of togetherness is offering prayer to Lord for nourishment. In this first phera, the bride and groom seek divine blessings by asking the Lord to ensure that they will never be short of food or money in their married life. And, they will not feel deprived of anything they need to nourish a noble and respectful life together. The groom takes vows to provide happiness and support to his wife and their family. Even, the bride also promises to shoulder the responsibilities with him. They pray that they will collectively work towards this goal and respect each-other.
Second Phera: In the second phera, the couple seeks union on all levels-mental, emotional and spiritual. They take holy vow to love each-other forever and they will always remain faithful towards each-other. They pray to God to help them live as one complete being, rather than two halves. Since, they will be partner for life, they seek strength to be able to support each-other in the thick and thin of life.
Third phera: As the bride and groom are stepping into the real world now, they seek blessing of God for their wealth and prosperity. They seek wealth not only for their physical desires or leisure, but for spiritual obligations as well. They also pray God to bless them for the ability and means to take care of their children, educate them and look after their needs. They also take oath for physical and spiritual loyalty towards each-other.
Fourth phera: In fourth wedding vow, they take pledge to respect elders and strengthen their family together by ensuring the family values and build a healthy and strong relationship with both the families. They take pledge to uphold the family values and follow the traditions of family. Besides, the groom expresses his gratitude towards his wife for completing his life and bringing auspiciousness and happiness in their life.
Fifth phera: With the beginning of a new life together, the couple also seek blessing for their future children from the Lord. They pray to Lord to be blessed with healthy, strong and noble children, who will bring good name for the family in the future. They also take the vow to be responsible parents to their children and provide them the education and right upbringing. The groom also promises his wife that he would always see her as his best friend. In return, the bride promises to love him and respect their relationship forever.
Sixth phera: To live a happy and blessed life, the new couple seeks blessings of the God for their healthy and disease-free life. They pray for the strength, so that they can fulfill all their responsibilities properly towards each-other, their family and children. They wish for a balanced and joyful life with each-other in the life journey.
Seventh phera: The final phera seals this holy union is one where the couple makes the promise to love, trust and respect their companion. They take the vow to be good friends for life and stand by each-other in everything. They also promise to remain united through everything in life and will remain truthful and loyal towards each-other and their relationship.
LoveVivah.com Hindu matrimony site provides profiles of grooms and brides for marriage. Free Registration for all! Begins your life-partner search now!