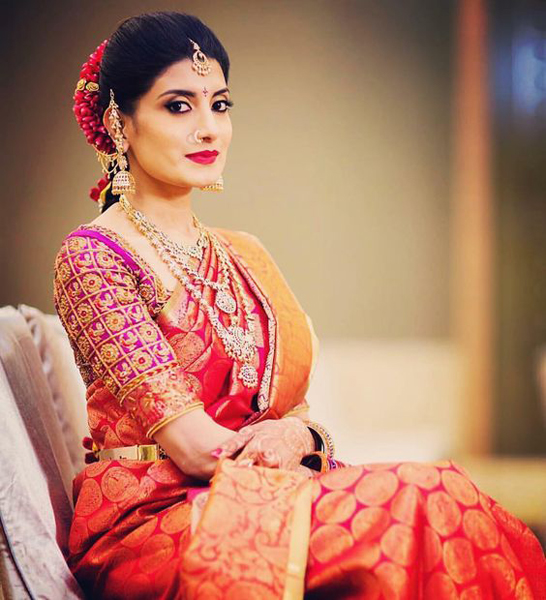 Wedding day is the most special day in a women's life.  You want to look stunning and gorgeous on your wedding day. You will surely choose the best wedding saree or lehenga, best make-up artist and best of everything for your wedding day. If your wedding is round the corner, it means that you should pull up your socks and start focusing on your looks and body as well. If you are getting married in winters, then you should take good care of your skin and hairs to look beautiful. All the girls want to look beautiful on their wedding day, not just beautiful, but flawless, special, confident and radiant. You should always keep this in mind that all the eyes of the guests will be on the bride on this special day. Your effortless beauty will be captured by the photographer that will last till lifetime. To help you to ease your go gorgeous journey, here are some simple tips and tricks to look stunning on your wedding day.
Switch to healthy diet: If you are eating too much of fast food or junk food, therefore, it becomes really important for you to make changes in your diet. Make healthy changes in your diet and eat as much as healthy as you can. Try to include fruits, salads and a lot of vegetables in your daily diet. Eat fresh food, fruits and vegetables every day. Minimize the consumption of meat, dairy products and frozen food to stay energetic and look stunning on your wedding day.
Drink more water and fresh juices: Drink more and more water to stay fresh and not to get dehydrated on your wedding day. Our body requires a lot of water, to maintain the healthy balance between your diet and drinking habit, it is important that you drink a lot of water every day. Try to include fresh fruit of orange, pineapple, guava or grapes in your daily routine. Try to have at least a glass of fresh fruit juice every day. Don't go for canned juices, as added sugar and preservatives will do more harm than health benefits. If you love carrot and beetroot juice, you can also try that as well. If you are not able to get fresh juice, so you can have such fruits, those have high water contents like cucumber, watermelon, muskmelon, oranges, tomato and other water based fruits and vegetables.
Exercise to stay in shape and healthy: When you follow the healthy routine of exercising regularly, it helps in flushing toxins out of your body. You also improve your circulation, bringing more blood to the surface of the skin. It will give you a healthy glowing skin and it will also keep your skin healthier in long-term. Get involved in any of the physical activities such as jogging, running, cycling, hiking and yoga, etc. You will get glowing skin as well as you will reduce your anxiety and boost your blood circulation and mood as well.
Exfoliate your body: Gently exfoliate your face and body with a washcloth or mixture of ground oatmeal and water or olive oil/almond oil/any other your favorite message oil/body oil. This process will remove the top layer of the dead, dull skin that's hiding the beautiful glowing skin underneath. It will help in boosting the blood circulation and gives you a rosy glow too. It your wedding dress will show more skin, in that case, you can also use the same mixture on your arms, legs and other parts of the body. You surely want your whole skin to glow, not just that your face.
Make changes in your skin care: If you are not happy and satisfied with your current skin care routine results, go for a skincare makeover.  Make changes in your skin care products, but ensure that you are doing it much in advance. If the new product doesn't suit your skin, at least you will have enough time to take corrective measures. Coconut oil and almond oil are the fantastic skin moisturizers, if you are not happy with your body moisturizer, try these oils. For your face, apply some petroleum based ingredients and oils.
Improve your digestion: To get that flawless skin, you need to work upon your digestion. It is very important that you take right kind of diet and fruits that help in boosting your digestion. Eat green leafy vegetables, fruits like mango, pineapple, orange, pomegranate, guava and grapes in your fruit list to improve digestion. These fruits will help in improving your digestion and minimize the chances of skin problem like pimples, pigmentation and acne.
Buy good beauty products: What you put into your body and how much you move around are both important will result in beautiful, glowing skin, but on special occasions-like your wedding day-you really want to look gorgeous. Go for good beauty products from good brands. Go for such skin products which are good and go well with your skin.
LoveVivah.com matrimonial site provides profiles of brides and grooms looking marriage in India. Search your future spouse from the thousands for verified profiles.