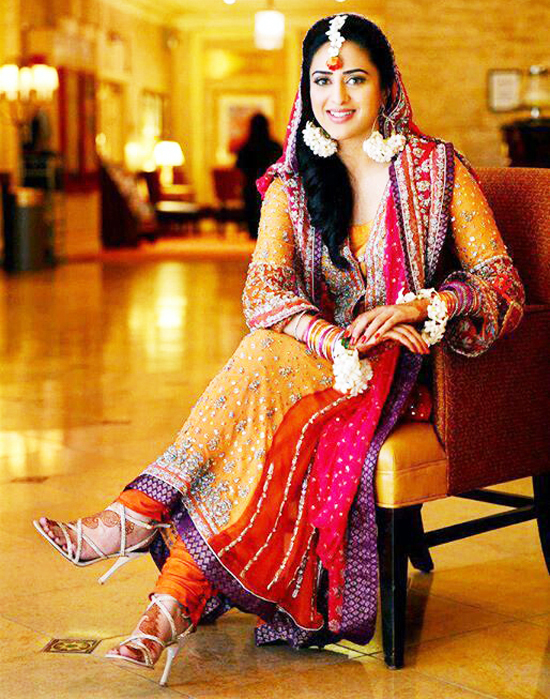 On your wedding, you can't afford to look less than a gorgeous diva. It is not just your attire which makes you awesome, but your complete look which helps you to increase your beauty. Your beautiful nails can leave your groom and guests surprised. After all there are many people who will keep their eyes trained on your hand and the bling that your groom will be putting on it during the ceremony. Here we are sharing some of the trendy and peppy wedding nail art that go perfectly with your wedding dress and wedding look.
Glittering glam: On your wedding day a normal simple French manicure will be too boring. Add some jazz to your nail by covering your nail with transparent pink color and apply some glittering gold sparkle nail paint. Nail paint in silver, light gold, copper and dark gold will also look good. Mix your color well with your dress. Try different combinations, go for matt base and shimmer combination for a perfect nail look.
French manicure with twist: Instead of going for a regular French manicure try French manicure with a twist. Apart from the white nail paint on the top, you can go for multiple shades and color on the nail. Even you can also add two colors to make some nice design which will help your fingers to look longer. You can try streaks and dots combination as well it will really enhance the beauty of your hands.
Flower shades: Choosing the right floral design for your wedding day is really important. Each flower and color combination should be perfect and neatly done. Choose the flower which you liked most lily, sunflower, rose or any other flower, decide the color combination according to your wedding dress. However, there are endless options available to opt as nail art when it comes to floral design.
Lace design on your nail: You can also try some vibrant color base or matt effect base with a glittering border or lace design on the top of the nails. This is a good pattern for nail art. You can also pick from the available options. Go for some glittering borders with some bright shades.
Nail jewelry: Your wedding day is something when you can't miss even the smallest opportunity to look good. You can check the different kinds of nails jewelry available. In French manicure and nail art you can pick any design and nails jewelry.
Customized nail art: If you want to do something really special for your wedding day on your nails, go for some customized nail art. You can get your nails painted in one shade and get your message written on it. You can get any love message written on your nails. Even you can get your and your husband's name written on your nails.
Simple shades combination: If you don't want to experiment too much with your nails art in that case the simplest rule is to get your nails painted in one or two shades, horizontally, vertically or in streaks. Make a choice based on your interest. You can choose two-three different shades matching well with your wedding attire.
LoveVivah.com Uttar Pradesh matrimony portal offers brides and groom profiles for wedding. Registered to check the matchmaking from UP and India as well.