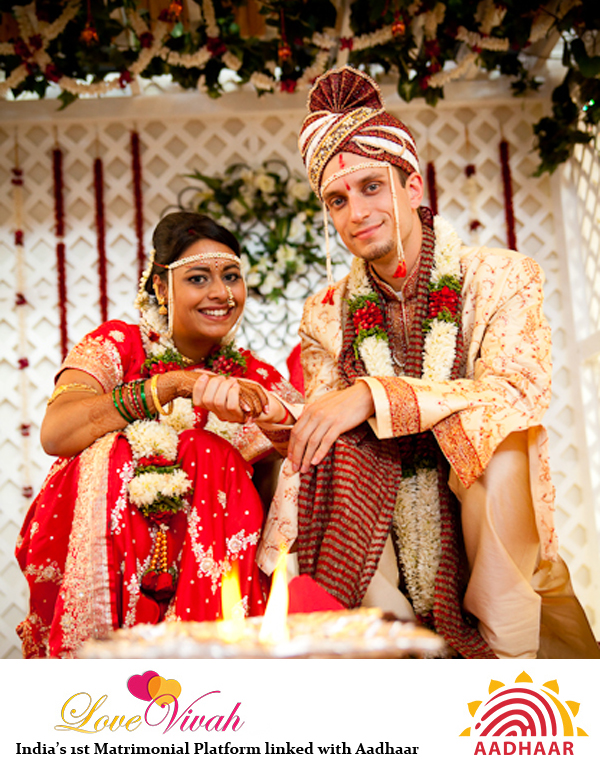 Marriage in India is considered as one of the biggest event of once life. If there is someone in marriageable age in the family you always want him/her to get marry in the same caste or community. Why we all the time condemn inter-caster marriage so much? Why we want to marry someone from our own community? We all must have heard this from our parents that we don't want you to go for inter-caste marriage. We are ok with your love marriage, but not with inter-caste love marriage. This is something really strange that in present tech-savvy world too we consider inter-caste marriage as stigma. Do you think that our generation next too thinks about it in the same manner? Do you think that they also mind about marrying someone from a different caste or community? Here, we are sharing some of the reasons why we still prefer inter-caste marriage and a survey finding what our new generation thinks about inter-caste marriage.
The younger generation believes that there is no harm in marrying someone from a different caste. They don't mind marrying someone from a different caste if they find him/her compatible. But one the reverse side parents want that their kids should marry within their caste, be it arranged or love marriage.
Rashmi Soni, 28 years, Senior Creative Designer, MNC, Gurgaon said that she does not mind marrying someone from a different caste or community if she will find him understanding and compatible. She also mentioned that her first preference is to find a life partner who is understanding and professionally stable, rather than marrying someone from the same caste who is not at all compatible.
In another conversation with Investment Banker, Anurag Singh, 30 years, shared with us that he too doesn't mind marrying someone from a different caste if that girl is mature and intelligent. He wants to marry someone who is understanding and prove to be a better-match. For him caste has nothing to do in married life except celebrating festivals differently. But, this is a very small thing in front of other issues which you face if you marry a wrong person.
Lakhshita Tonk, 27 years, working as Financial Analyst with a financial firm in Hyderabad, said that she likes someone in her office and planning to get married soon. He is from a different caste and she mentioned that if there is no problem in working someone from a different community. You can be good friends if you are from different caste why you can't marry someone from a different caste. She mentioned that understanding and compatibility has nothing to do with caste. This is just a norm which we all follow to get the societal acceptance to our relationship.
Dinesh Garg, 26 years, Senior Risk Management Analyst, CA firm Pune, said that he is working in Pune with a CA firm and earning good. He mentioned that he will not bother much about the caste of his life partner if he finds someone compatible and a perfect match. He wants someone who will be understanding and supportive. He wants someone who understands his professional liabilities and mature enough to handle situation at her own. So, caste is not the main criteria for marriage, but a better match with higher understanding is preferred.
We, also discussed the same topic with parents and here we find that they have a different opinion altogether. However, there are many reasons behind their logic and not supporting inter-caste marriage. Let's take a look what our senior generation thinks about inter-caste marriage.
Rajat Jha, 54 years, PWD officer, is looking for a match for his daughter. He is looking for a groom from his own caste. He is not in favor of marrying his daughter in different caste. He said that marrying our daughter to different caste will create pressure for her. It will be difficult for her to adjust with new rituals and new things in life. We love to do thing the way we see them from out childhood. It is difficult to follow new rituals and get adjusted. Therefore, he doesn't want to search someone from a different caste.
Kuldeep Nair, 58 years, Banker is also not convinced with the idea of finding a match for his son/daughter in different caste. He said that it might be it will take some time to find a good match or a perfect match within the community, but it is not difficult. He further mentioned that we are Pandit, we follow certain rituals and traditions which are different from other communities. I don't want that my daughter or daughter-in-law will follow some different rituals. It will create problem and make life more complicated for the member to get adjusted with new styles and traditions. He further added, if you get married in a different caste you feel like that you are from a different planet and have nothing to say, rather just to follow everything blindly.
Santoshi Mathur, 60 years, Teacher is also not really happy with this changing trend. She said that nowadays, kids are going for love marriage and they prefer to marry someone who is equally qualified, smart, intelligent and compatible. So, they don't mind marrying someone from a different caste. But, as a parent we know that our society does not easily accept an inter-caste arranged marriage. It will further affect our future search for our other kids. Therefore, she also believes that inter-caste marriage is not a good idea as it reduces of getting a good match within the caste for other kids in the family.
| | |
| --- | --- |
| Why you should do inter-caste marriage? | Why you should not do inter-caste marriage? |
| Caste is not the problem in any marriage | Social acceptance is lower |
| You will learn new customs and rituals | Lower chances of finding a better match for other kids within community |
| You feel that now you are part of two different societies | Adjustment issues in accepting and learning new customs and  rituals |
| You feel more connected | Cultural differences |
| You start respecting other customs and make you more mature | People still consider it as stigma |
LoveVivah.com Rajput matrimony portal gives grooms and brides profiles for wedding. Search your Aadhaar verified matchmaking partner.