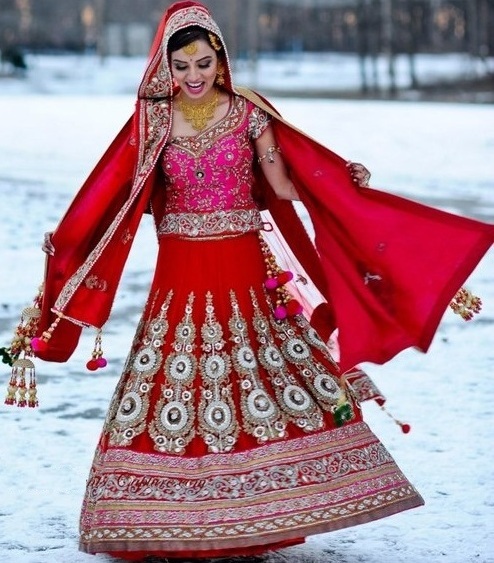 Advent of winters marks the onset of wedding season in India. The magical aura of a winter wedding is best known to those who have attended one. A nip in the air, foggy nights, and endless cups of hot chai or coffee are a perfect combination to set an impeccable environment creating an unforgettable evening in a couple's life.
Whether you are an Indian bride or groom or a guest, lovely and pleasant weather in winter gives you a leverage to flaunt those gorgeous heavy outfits and makeup without the fear of sweat. The cool climate keeps you relaxed, allowing carrying the dress and jewelry for long hours without any discomfort. Yet, there is another side to winter weddings. On one hand it keeps you relaxed and cheerful, but on the other hand if it is too chilling, then it becomes all the more important to keep yourself warm to be able to enjoy the wedding at its fullest.
Here are a few tips you can use to keep yourself warm without compromising on your wedding looks.
Choose your fabric smartly
The choice of your dress material is critical in Indian Marriage in winters. Opting for materials that keep you warm and at the same time providing a gorgeous look is all that's needed. Velvet, silk, taffeta, satin are a few best bets for winter fabric. Though you might be tempted to go for stuffs like net, chiffon, georgette, organza, etc. but better to avoid them if you are getting married in winters.
Layer up your Wedding Outfit
A multi-layered outfit with thin layers can help retain the warmth better than a single thick layered dress. You can opt for a dress that consists of multiple layers of fabric giving a trendy look to your outfit. For example a multi-layered lehenga, with a trendy overcoat or a jacket giving a fresh, trendy look to wedding attire of any Indian Bride.
Use Secret Weapon – Full Sleeves
Going for a full sleeve wedding dress, will not just keep you warm and cozy, but will also give you a look which is a fusion of tradition and trend. A full sleeve blouse, matching with your wedding lehenga or wedding saree, can give an absolutely stunning look to any Indian Bride.
Choose Smart Footwear
Smart footwear that goes well with the chilly weather is all you need to add on to the warmth of your wedding. Try to opt for footwear that can keep your feet covered in the winters. If required, you can also pull up your socks that stay hidden within your covered yet fancy footwear.
Stay warm with a Cup of Coffee
Last but not the least, keep yourself warm with a cup of hot tea or coffee. Let your friends be informed in advance so that they don't leave you without a coffee in hand. Just keeping your hands around the warm cup helps offers a comfortable cozy feeling, not necessarily you need to sip in, though you may if you feel like.
Marriages in India are all about fun and excitement. Every Indian bride or Indian Groom would have many expectations from this day and some small but smart decisions can help them live up to all those expectations.