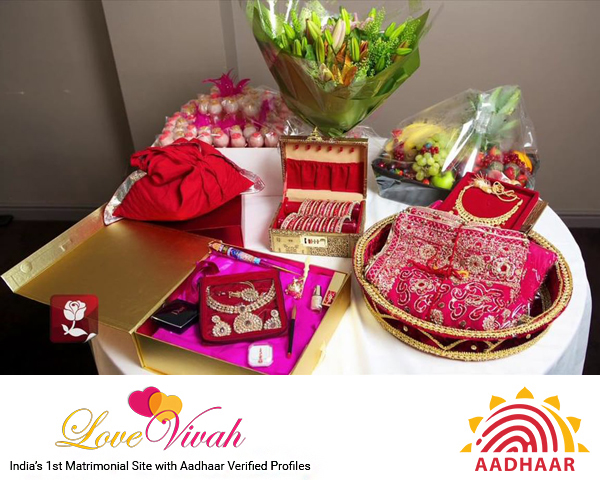 After all the initial processes of searching bride and groom, and choosing the perfect one, the next ceremony is engagement ceremony or Roka ceremony among Sikh wedding rituals. In Punjabi families, they call it Roka ceremony.  Recently, I got an invitation from my friend for her Roka ceremony. This is one of the most important ceremonies in Punjabi community. As she is a very good friend of mine and I was not very sure what I should gift her on this special occasion. I discussed this with other friends what I should gift her on this special occasion. They gave me different suggestions and ideas. However, the journey of finalizing and buying something special for her Roka ceremony was not that simple. I am here sharing the list of some options which you can also consider to make your journey simple and hassle free.
Gold jewelry: I found gold jewelry is one of the most suitable and apt gift for girl. You can gift an elegant ring, earring or gold chain. If your budget is higher, you can choose something better for your friends like gold bangles, necklace or diamonds ring for her Roka ceremony.
Skin and body care kits: This is another good option to gift her on her special day. These kits include different products for skin and body care. These are the best to pamper your body and skin before marriage and feel happy. There are various skin care and body care kits available in the market from different leading brands. Moreover, you can get a kit customized according to your requirements and choices.
Make-up kit: This is hot favorite of all girls. You can buy a nice make-up kit for your friend. You can buy a regular make-up kit with different items. But, you can also customize your make-up kit as per your requirements. You can add or remove some items if you want. These make-up kits are available in different price range from minimum Rs. 500 to Rs. 5000 and more.
Microwave oven: This is something a choice based gift. If you know that your friend loves to bake things and she is good at it. This will be a perfect gift idea for this ceremony. You can gift her microwave which she can use after marriage in her new home and bake something mouthwatering dishes for them. You can buy a good microwave from any leading brands like LG, Electrolux, Whirlpool, Samsung and Phillips, etc.
Digital camera: If your friend is a good photographer or photography is her hobby, go ahead and gift her digital camera. This will be one of the most desired gift for her. There are various cameras available in different price range from minimum Rs. 3500 to Rs 1lakh or more. So choose a camera suiting your budget and meeting her interest.
Dinner set: Dinner set is very useful gifting option. Buy a nice branded dinner set for your friend to gift her on Roka ceremony. You can choose a dinner set of minimum 13 pieces to 56 or 60+ pieces. Dinner sets are available in different material and price range. So, chose a set that you think is the best to gift your friend.
Handbag: Handbag is something, which is very much loved by all the girls. For girl's handbag is like a dress that you never had enough.  You must know the taste and choices of your friends, so you can give her nice handbag. Decide the pattern or style whether you would like to give her party clutch or an office handbag. Make your choice smartly to make an impression.
Spa voucher: To pamper her and relax her senses and body you can gift her spa voucher. You can also gift her a couple spa voucher as well if her marriage date are within three months to enjoy some special time with her spouse. Most of these vouchers are valid for three months at least. So, gift her something to pamper her and take a break from hectic schedule.
LoveVivah.com Punjabi matrimony website gives brides and grooms resumes for marriage. Find your life partner with Aadhaar matchmakings from Sikh matrimonial profiles.