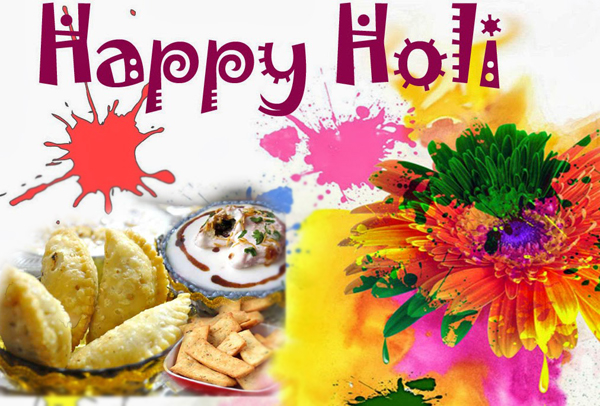 The most vibrant festival is here, the festival of colors, fun, enjoyment, food and lots of excitement is round the corner. This is the perfect time to plan a grand Holi party. Holi is about delicious food, mouthwatering dishes, gunjiya, thandai and gulal. Holi is best celebrated with friends, relatives and family. Plan something really happening to make it special. This is one of the most vibrant festivals that give you opportunity to reunite with your friends, family and relatives. Here, we are sharing some of the mind-blowing ideas to celebrate Holi festival in stylish desi ways.
Decide the place for party: Before sending the invitations, it is important that you finalize the place for your party. Are you going to organize this party in the lawn, terrace or some small party hall of your society? Finalize and fix the place and ensure that it should be spacious enough to accommodate all the people easily. Holi can't be celebrated in-house, you need some open place where you can play it with water, colors and other props.
Prepare a guest list: Before you start sending the invitations to the guests, it is important to make a guest list. Note down all the names of the people on a paper and prepare a list. It will help you in figuring out the exact number of guests as well help you in doing the preparing and planning in better way.
Be creative with your invitations: It is Holi time, which always known for its fun elements and excitement, therefore, it is important to send an invitation differently. Use your creativity and be different in your messaging. Write something funky and innovative in your invitation. You can also use handmade invitations if you have enough time to make them. So, be creative while sending the party invitations.
Dress code: To add some spark and flavor in your party go for some dress code. Don't forget to mention this in your invitation that you are expecting everyone in the as per the dress code. The best part of the Holi is that you need not to dress up specially, but, you need to stay cool, comfortable and funky to enjoy the festival mood. You can also ask your guests to dress up in white color to add some flavor and fun element.
Choose the right music: Music is soul of any Holi party. You can't imagine any Holi party with some peppy beats and dancing songs. We can't imagine a single Holi party without some well-known Holi songs like "Rang  Barse Bheegey Chunar wali" and " Holi Khele Raghuvira". However, there are people who like to dance on dhol beats or some other dance number. So options are unlimited, choose your Holi songs rightly to make it blasting.
Don't forget to add some flavor of methai & thandai: The real flavor of Holi is incomplete without the methas of Gunjiya and thandia. Add some street snacks like golgappe, bhala papdi chaat and some other mouthwatering street food. Make a menu according to the festival and keeping the Holi mood in mind. Don't go for some really oily and spicy food, rather go for some mouthwatering snacks and starters.
Funk it up: This is the time to add some fun and funky element into your party. Go for some miniature pichkari, mud Holi, and some other fun games to add some excitement into your party. Go for some crazy and fun games to enjoy it to the fullest.  
LoveVivah.com Khatri matrimonial portal gives Indian grooms and brides profiles for marriage. Find your dream partner from verified profiles.