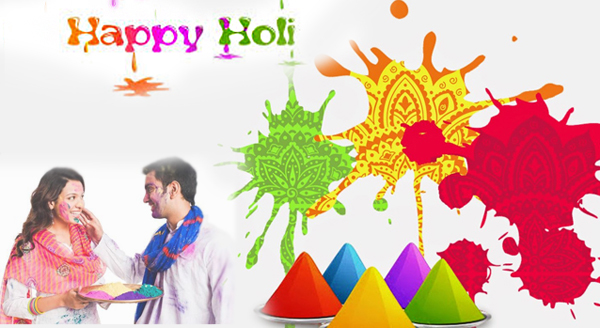 Holi is all about losing your hairs and going crazy with friends, relatives and family members. If this is your first Holi after marriage, then this is really important for you as newly bride. Your new family expects you to enjoy this first festival with them and look your best at the same time. The best way to celebrate Holi with your new family is to spend it wisely. Here are some special ways to enjoy your first Holi after marriage.
Try to know the mood first: Before you start planning anything grand, it is good if you know about the mood and plans of your new family. Try to find out whether they want to throw some party or not. Are they planning a small get-together or it will be just a personal family affair. Are they not going to celebrate it and what's the reason behind it? If some tragic incident is the reason behind that, discuss this with them before planning anything.
Be creative with invitations:  Holi is not a formal festival where you need to behave formally and show all etiquettes to the guest while sending the invitation. You can use your creativity and add some fun part in Holi invitations also. You can call them up and tell them about the party or you can send them some text messages or whatsapp message as well. You can also create a special Holi whatsapp group to send the invitations to all the members and invite them. Do forget to remind them about the party a day or two before the actual date.
 Get dressed according to the occasion: Holi is not the festival for dressing up in your best dresses, but it is more about dressing up for the occasion to enjoy it to the fullest. As you are the new member of the family and don't know how they celebrate this festival, so try to wear something decent, simple and comfortable. Don't forget to apply a thick layer of good cream or sunscreen on your face to protect your face.
Be perfect hostess: It might be that many people will visit your home to wish you Happy Holi because this is your first Holi in the family. So, get ready to manage such surprise visits of guests on that day. Become a good hostess and greet everyone with smile and warm wishes. If someone is comfortable with colors, don't force them to play with colors, rather offer them something to eat and let them enjoy the way they want.
Invite your friends as well: This is the time to meet the friends whom you have met from some time or those who were not able to attend your wedding. Invite your friends on Holi and ensure that you are making sufficient arrangements of colors, beverages, snacks and food for everyone.
Don't forget to enjoy the party: This is your first Holi in the family and you must be busy with a lot of different things from looking after the arrangements to greeting the guests. But, during all these things don't forget to enjoy the party, after all this is your first festival with this new family and your chance to gel with other family members. Don't miss the chance to dance with your husband and get little flirty with him. Don't forget to gel with all family members this is what everyone is expecting from you.
LoveVivah.com Kayastha matrimonial site gives online profiles of grooms and brides for wedding in India. Search your better matchmaking life partner.