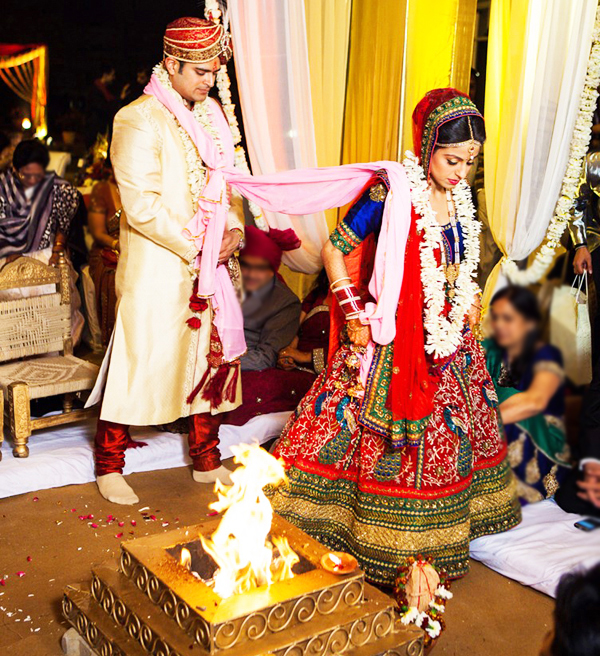 Wedding rituals are holds special place in Hindu family. Generally, hindu people also call it 'Vivah' and the wedding rituals are known as 'Vivah Sanskar'. Hindu marriages take place all over India and even loads of Hindu's who are settled abroad still prefer Hindu marriage traditions.  Hindu marriage has different rituals to follow in different regions, different color themes and ceremonies as well. Mainly you can divide these rituals in three main categories: pre-wedding rituals, wedding rituals and post wedding rituals. A lot of importance is given rituals and traditions in Hindu weddings. Here, we are discussing the seven most common and popular rituals of Hindu wedding.
Ganesh pooja: Most of the Hindu families begin their wedding rituals by invocation to God Ganesha, the Hindu god of wisdom and salvation. The main logic of invoking him was to remove all future obstacles from the wedding ceremonies. You can perform a Ganesh pooja anywhere from a few days before the wedding day.
Arrival of barat: The wedding procession from the groom's side which include groom's family members, relatives and friends. Barat is also known as vara yatra, which has a long procession including band, dhol and other drums. The bride's parents, brother, male members of the family greet them with akshat, tilak, aarti and garland and welcome them to the wedding venue.
Jaimala ceremony: This is the first ceremony is generally conducted after receiving the barat. The bride and groom exchange garland. After jaimala, the bride and groom proceed for other wedding ceremonies.
Kanyadan ritual: The bride is generally led to the wedding mandap by her brothers or maternal uncle, where the groom waits for her with her parents. The bride's parents offer their daughter in marriage in a pious and solemn ritual known as kanyadan in Hindu matrimony.  Her parents wash their feet with milk and water purifying them for their new life together. Hindu bride and groom hold their hands open and the father of the bride holds his open palm over their hands. The mother of the bride then pours water over her husband's hand that subsequently falls on the hands of the bride and groom.
Mangalsutra bandhan and sindoor ceremony: Groom adorns bride's neck with the auspicious mangalsutra, symbolizing good luck, love, commitment and care for rest of the life. Groom also applies kumkum on bride's forehead as wedding ritual. This is a very important wedding ritual in Hindu marriage.
Saat phere/ saptapdi: In this ritual, the bride and groom take seven rounds to the sacred fire of havan. This is very important ritual and takes place tying the mangal sutra. Every phera is important and has its special meaning. After this ritual the bride-and-groom are lowfully wedding.
Aashirwad: This is the symbol of end of the wedding rituals. After completing the saat phera, the bride and groom touches the feet of their elders and take blessings.
LoveVivah.com Indian matrimony site give online verified profiles of Hindu brides and grooms for wedding. Find your dream life partner from thousands of Hindu matrimonial profiles.