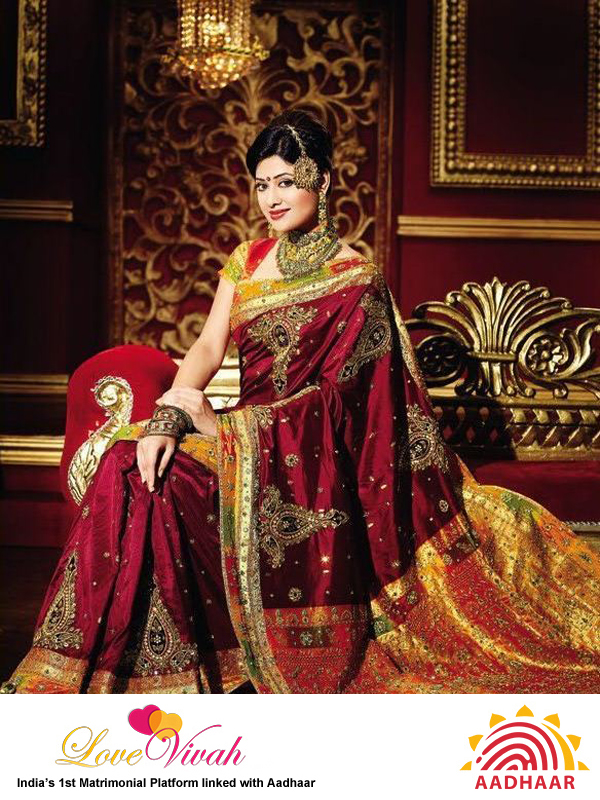 No bridal shopping is complete without sarees. You can't miss buying the saree to complete your new wardrobe. No doubt suits salwar and other dresses look good, but this nine yard gorgeous dress has its own charm. Saree is one of the most beautiful and alluring dress and looks great on every female. Nowadays, saree has become trendier and females love to experiment with this beautiful dress. You can see many actresses flaunting this nine yard dress on different occasion and festivals. There are many sarees which are specially designed and woven for special occasions and festivals. Here, we are sharing different types of bridal sarees which you can't miss gifting to your daughter on her wedding.
Banarasi Silk Saree: Saree is considered as one of the most attractive and beautiful dress and all men love to see their lady love draped in this beautiful attire. Banarasi silk saree is one of the most popular saree and very famous in north India. It is a must pick for your bridal wardrobe. They are available in almost all colors and shades. The sheen, color, texture and fabric give you enough reasons to pick this beautiful saree. It took three to six months to woven a single saree. Banarasi silk sarees are crafted in Varanasi. These sarees have heavy golden embroidery especially on the borders and pallu. These are very much loved by North Indian brides.
Chanderi Silk Saree: This beautiful saree belongs to Madhya Pradesh. This is traditionally designed and crafted. This beautiful saree gives you a royal look. One of the popular forms of this saree is tissue silk, this is the luxe type of sheer saree. These sarees are designed with traditional patterns like coin, flowers, peacock, floral art, geometric patterns and many more. These classic sarees can be paired with traditional jewelry on any occasion or festival. This is a perfect pick if you are going to attend some parties, pre-wedding functions or something similar after marriage. You can pick a saree in any color and shade. Besides, these saree are also available in dual color combinations.
Kanjeevaram Silk Saree: You can't miss buying this masterpiece to complete your wardrobe. This is a very famous south Indian saree. You must have seen many film actresses wearing this saree time-to time. It is a bridal saree for females in south. It is considered as auspicious and a marriage ceremony can't be completed without this beautiful saree. Brides from Kerala and Tamil Nadu wear this gorgeous nine yard saree as their wedding dress. It is gaining popularity in North India as well. Famous film actresses like Aishwarya Rai, Vidya Balan, Silpa Shetty and many more wore this beautiful saree on their wedding day. If you are not sure to wear lehenga on your wedding day, you can choose this beautiful saree as your wedding dress.
Sambalpuri Sarees: This saree is originally from Odisha. The beautiful designs, patterns and ornamentations make this saree vibrant and colorful. It is popular as Sambalpuri Sarees. This gorgeous masterpiece is available in silk as well as in cotton. You can pick the fabric which you find more comfortable and easy to carry. This beautiful saree can be clubbed with terracotta jewelry to get the perfect party look.
Nauvari Saree: This saree is popularly worn by the Maharashtrian women. This is very beautiful and well-crafted saree. You can wear this gorgeous saree on any important occasion or festival. However, the females from Maharashtra wear this saree in Maharashtrian style like dhoti. This saree is available in almost all the colors with different designs and patterns. You can pick this saree as your bridal dress or your sister and friends can also wear this saree as bridesmaids.
Patola Saree: This is very vibrant and colorful saree as you can guess from its name. It is found its name from the small place of Gujarat state Patan. These sarees are rich with colors and looks very vibrant. These sarees have very bright color combinations with strong patterns and designs, which easily grab attention. This saree is a perfect pick for a family function and festivals.
LoveVivah.com Hindi matrimony site provides profiles of grooms and brides for marriage. Free Registration for all! Begins your life-partner search now.