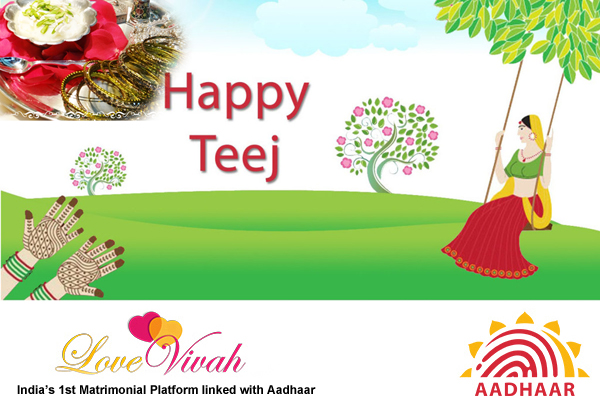 Haryali Teej is one of the famous festivals of North India and celebrated by the married women of North India. It is celebrated in states like Bihar, Rajasthan, Uttar Pradesh, Madhya Pradesh and Haryana during the month of Shravan. Shravan is the monsoon period of India which falls in the months of July and August. It is believed that when a married woman keep a 'Nirjara' fast during the festival of the Hariyali Teej, her husband is blessed with healthy and long life. Besides, the unmarried women in some parts of North India keep this fast with belief that they will get special blessings from Goddess Parvathi. Goddess will bless them with a good future husband and will enjoy the marital bliss.
Teej Fast: This is one of the most difficult fast and has equal importance as Karwa Chauth. This Nirjala fast is one of the difficult fast and one day long. It is a pre-day fast and all women of the family, neighbors and relatives gather to have a gulp of food at mid-night. During this fast, women are not supposed to take a single sip of water or have food whole day. This festival is one of the most difficult fast and because of summer you feel the urge to drink water, which you are not supposed to have whole day. To keep themselves busy and occupied women indulge in different games, swings, songs, movies and other forms of entertainment.
Tradition to adore: On this colorful festival, both married and unmarried females dress up in traditional clothes. Generally, women dressed up in traditional and auspicious colors like red, green and yellow. Most of the ladies prefer to wear saree, lehenga and suits salwar on this special day. Women start shopping for this festival well in advance. This colorful festival gives them all reasons to dress up in the best clothes and look gorgeous.
Mehandi and Alta: This is one of the most important rituals of this festival. Women smear heena designs on their hands. In some states, women apply alta on their hands and feet as ritual as they consider alta very auspicious and symbol of blessed married life. Mehandi and alta is an integral part of this festival and part of shringar of married women. Some ladies prefer to apply intricate designs with heena, however some prefer to apply simple heena designs.
Traditional Jewelry:  Ladies also wear gold and diamond jewelry matching with their traditional dresses. In some places, women wear traditional jewelry like maang tika, nose ring and all other gold jewelry during the pooja. Most of the women wear new anklets, toe rings and earring on that day. As this day has special significance for married women, so they celebrate it in full swing.
Teej Pooja: Women observe the fast, usually gather in a temple or at a common place. They wear traditional clothes, jewelry and makeup to look gorgeous on the day. They read a mythological story about Goddess Parvati in the daytime and complete other traditional rituals. They see the moon in the night, and offer prayers to moon. After completing the pooja, they finally have meals.
Shrinjhara: Women receive special Teej gifts from their in-laws, popularly known as Shinjhara originated from "Shringaar". This gift pack contains all items for shringaar of their bahus. Right from sarees, heena, bangles and ghewar.
LoveVivah.com Uttar Pradesh matrimonial website provides marriage profiles of brides and grooms from UP community. Check for suitable spouse with Aadhaar verified matchmakings.