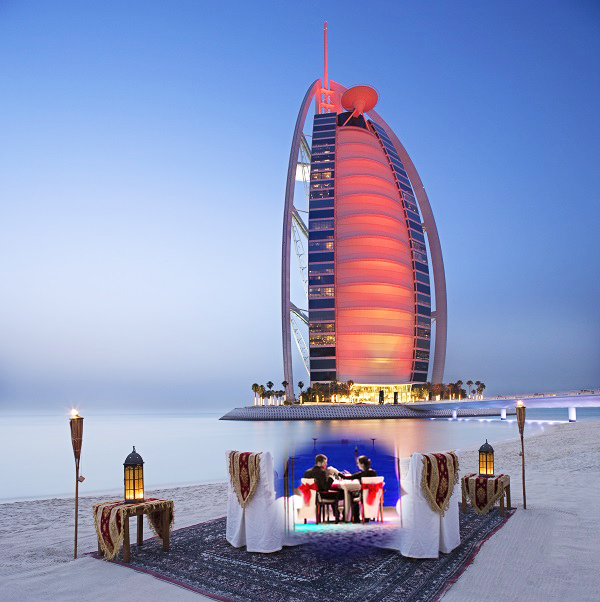 Dubai is the perfect honeymoon destination for couples who have fast-paced cosmopolitan cities with glamour and excitement round the year. If you are planning for a destination, which is very much international and at the same time cost effective, then Dubai is one of the first choice of all those couples. The city is full of excitement around every corner. You can easily book your stay in any of the five stars or seven stars hotel, you can also book your stay at budget hotels as well. There are plenty of places where you can visit and enjoy your honeymoon.
The glorious mountains, pristine blue beaches, salmon colored desert sand make Dubai as one of the most preferred budget honeymoon destinations among tourists and guests. It is a perfect romantic honeymoon destination, which offers you fun, excitement and various fun-filled activities. Let's take a look at few of the places where you can visit and indulge in various fun activities to make most of your honeymoon trip.
A romantic dinner at Villa beach restaurant: Dubai is all about food and fun. Here you can indulge in one of the most lavish and royal dinner. The Villa beach restaurant at the Jumeirah beach hotel offers mouth-watering cuisine with one of the most exotic settings and interiors. It is just a few meters away from the iconic Burj Al Arab. This is one of the most romantic locations where you can enjoy the dinner in the starlit sky and hear the sound of sea waves.
An exotic walk on the beach: If you are in Dubai you can't miss the opportunity to visit the beautiful beaches. The city has many beaches and some of them are owned by the hotels. These hotels give access to their guests to visit these beaches and spend quality time there. But, as private beaches, it is not easy to get the access or it might be you are required to pay some fee as well. However, there are some beaches which offer free access to tourists and guests. You can spend the best romantic moments here with your partner. You can even plan some water sports activities as well if you love water sports.
Desert Tour: You will never find a more romantic honeymoon destination then Dubai. You have the opportunity to indulge in lavish food, candle light dinner, a memorable walk at beach and to add some excitement you can also visit for desert safari. There are various desert safari operators and the fares for all packages differ from operator to operator. You will surely love this unique and wonderful experience. Nothing can be more romantic than holding the hand of your partner in the calm and shinning sand under the beautiful sky.
Burj Khalifa: It is known as the landmark of Dubai. It is rated as the tallest building of the world. For most visitors a trip to the observation deck on the 124th floor there is a must to do when you are in the city. Here you can enjoy the bird-view of the city. The best time to visit this beautiful and wonderful location is during the night. Before you visit this place, it is recommended that you buy your entry tickets in advance to avoid long ques.  Try to avoid your visit to this place during weekends as a lot of people visit this place during weekends.
Dubai Aquarium: This is a must visit place if you are visiting this city for your honeymoon. This is one of the top tourist attractions of the city. Dubai Aquarium has 140 species of sea life in the huge suspended tank on the ground floor of the famous Dubai Mall. You can get a free access to enter this beautiful museum if you enter here from Underwater Zoo.  Here you can get a very close look at the sea life.
Dubai Mall: Dubai Mall is the leading mall of the city and it provides entry to the Burj Khalifa as well to the most famous Dubai Aquarium. Here you can try ice-skating, for game crazy people there is a dedicated gaming zone and cinema complex if you are looking for more entertainment options. Here you can try various cuisines, besides, you can also view fashion shows and do shopping. If you love shopping then this the perfect place for you.
LoveVivah.com matrimony portal is leading matchmaking service for Indian brides and grooms. Thousands of couples happily married through this site.