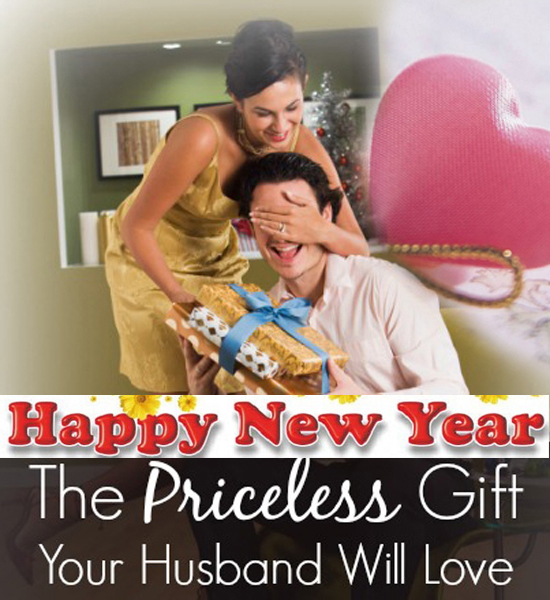 You can't imagine a relationship without love and affection. A marriage without love and romance is meaningless. To keep the love and romance bloom in your married life, it is good that you plan something nice and surprise your husband with simple gestures. Surprise gifts are the best way to showcase and express your love to your spouse. If you both are working and hardly get time to go out and spend some quality time together in that case a surprise gift would be the best idea to add some spark in your boring life. Sometime surprises can bring a lot of excitement and fresh air in your relationship. Here are some simple ways to plan some surprise gifts for your husband on this New Year.
Send him a surprise Thank You message and gift: Nothing can be better than saying thank you to your loved one. Saying him thank you for everything will make him feel special and good. You can send him a than you message/card or flowers with a note saying "Thank You". This is one of the simplest and cutest ways to express your love and make him feel special.
Decorate your room to surprise him: If you have not tried this after your marriage, then this is the best way to surprise him. You can decorate your bedroom with flowers. If you are not sure about flowers, so buy some bunches of flowers to keep them in flower vase and decorate your room with other stuff life ribbons, balloons, cards, keep some chocolates and bottle of wine in the room to complete your surprise. You can also decorate your room with small colorful lights or candles to give it a romantic touch. You can also use floating candles or tea-light candles, a good room perfume/freshener for beautiful and romantic aroma.
Write I love you: There are thousand ways to express your love, but nothing is better than saying 'I Love You'. It is the best way to express your love to your husband. You can write 'I Love You' on small sticky notes and stick it wherever you think that he will not miss reading them. You can use it on your bathroom mirror, on your cupboard, on your fridge, on his laptop bag, on his lunch box or inside his lunch box. There are many places where you can keep you love note to surprise him.
Cook something on heart theme: Cook something special for him or something which he loves to eat. You can cook something in heart shape theme. Try to make something or everything in heart shape like toast, paratha, pizza and anything else which you think can be easily converted into that shape without losing its original charm. But, anything ordinary will also look good in that if you put your efforts and heart in it.
Buy something of his interest: Rather than buying the usual stuff like shirt, watch, t-shirt, trouser, tie or wallet, buy something of his interest. If he loves gadgets, then buy laptop or a new phone for him. In case, he loves clicking photos, then buy a good camera for him. If he loves to play games, then you can gift him a good play station as well. If he is found of playing some instrument then you can also gift his favorite musical instrument like guitar, keyboard, drum or something of his interest.
Secretly organize a New Year party: If your husband is a party lover, you can also plan a New Year party for him. You can plan a family get-together party or you can also invite his friends only to make it buddy affair. Either way, whichever you think will make him more happy. Just ensure that the moment he is at home everybody must be already there and yells to surprise him.
Make a journey photo album: This is another good idea, which you can try to give him good surprise. You can pick different photographs in which you both are together from your courtship period, from your marriage day, honeymoon, some dinner or lunch, some family picnic, some romantic moments, etc. Make a journey album and ensure that you write some good titles or punch line on these photographs.
LoveVivah.com matrimonial portal gives free registration for boys and girls for wedding. Choose your perfect wedding partner from Lakhs of profiles. Happy New Year!