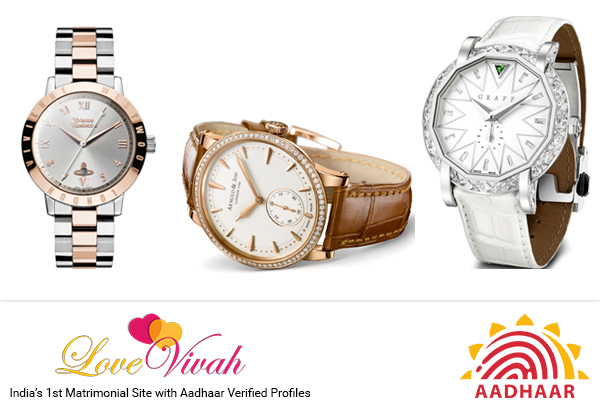 When it comes to buying something for your friends it sounds really easy, but when it comes to buying something for your wife, it always seems a bit complex. You are buying it for the first time or you are gifting it once again, still you really want to make it perfect. Buying a watch for your spouse could be a complex task. A watch itself a very complex item that requires a lot of knowledge, when it comes to choosing the right piece.  Here, we are revealing five essential tricks to buy a perfect watch for your wife.
When was the watch launched: This sounds really simple and easy when you ask this question to salesperson. But, it is important to test the knowledge of the salesperson and to know whether he/she is pretty aware of the watch or not. Even, this way you will be able to find out the age of the product and how good its market value. So, you can easily decide whether you want to buy it or not.
Should match with her style: While buying the watch for her, always keep her style statement in mind. There are plenty of designs, colors and styles available in the market to choose from matching different personalities. A sporty watch is not the ideal for the one who is spending most the time in office. You should always buy a watch which will match with the wearer lifestyle and profession.
Color of the watch: This is another important factor you should consider while buying the watch. The color of the watch is really a show stopper while buying the watch. Consider the complexion of your wife in mind and then only chose the color of your watch. If your wife is fair, you can buy a black, brown or a white watch. If she is of whitish complexion, you can consider brown, yellow, pink and silver color for the watch.
Go for a well-known brand: While buying a watch for your lady love always go for a branded one. If your budget is not too high, still there are various brands which offer pocket friendly watch for all. There are many shops which sell the first copy of the original watch that looks exactly same as the original watch. But, always ensure that if you are going for the first copy watch, you are buying it from the genuine store where you will get a warranty card with your watch as you get it for any branded watch. You can also buy a nice branded watch from the online stores as well and there are many brands that promote online shopping and offer heavy discounts.
Ask for the servicing cost: Most of the watches come with one year to five years of warranty period. Don't forget to ask for the things covered in warranty period. So, before going for the buying decision it is important to ask for the serving cost. There are some mechanical watches that need to be serviced, but not that often. But, there are watches that need special servicing and care, which require just cleaning and oiling. Therefore, it is always a good idea to know what a basic service for a watch might cost and also ask is that retailer can do servicing or you need to visit some other workshop for servicing.